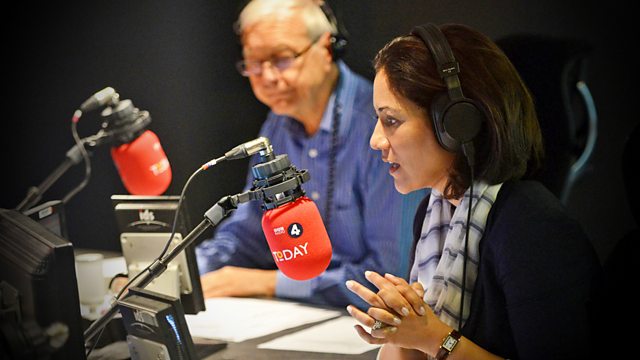 10/11/2016
Morning news and current affairs. Including Yesterday in Parliament, Sports Desk, Weather and Thought for the Day.
Last on
Today's running order
0615
The American markets reacted more calmly to the news of Donald Trump's presidency than many were expecting. Lord O'Neill is an economist and former Treasury minister. Nandini Ramakrishnan is a global market strategist at JP Morgan Asset Management. 
0650
One place that has welcomed the prospect of a Donald Trump presidency is Russia. The BBC's correspondent Sarah Rainsford reports.
0655
Scientists have developed a new device that restores movement of a paralysed leg in monkeys after spinal cord injuries. The device uses components that have been approved for research in humans. Andrew Jackson is a senior research fellow at the Institute of Neuroscience at Nottingham University.
0710
Republican leaders in Congress have been rallying round and outlining what policies they want Donald Trump to pursue. Top of the agenda is the repeal of President Obama's healthcare reforms. The BBC's correspondent Laura Bicker reports. Christine Whitman is a former Republican governor for New Jersey who refused to back Donald Trump's candidacy.
0715
At least seven people were killed and more than 50 injured when a tram derailed during the morning rush hour in Croydon yesterday. Andrew Braddock is director of UKTram, the UK's trade body for tram operators.
0720
So-called Islamic State militants fighting to hold on to their Mosul stronghold have killed at least 20 people in the last two days for passing information to "the enemy" and are back on the city streets policing the length of men's beards, residents say. The BBC's Middle East correspondent Mike Thomson reports.
0730
Donald Trump promised to revive the US economy by renegotiating trade accords and imposing tariffs on imports from countries like China. Yanis Varoufakis is a former Greek finance minister, and Dame Deanne Julius is a former member of the Bank of England's Monetary Policy Committee.
0740
The charities Voice 21 and The English Speaking Union are campaigning for more focus on speaking and listening skill development in our schools to help improve children's 'oracy' – that is the ability to speak and make themselves understood. The BBC's correspondent Sima Kotecha reports.
0750
Donald Trump often invoked Brexit during his presidential campaign, and his surprise victory has only further reinforced such comparisons. Madeleine Albright is a former US Secretary of State.
0810
Donald Trump will soon be in Washington DC as he prepares to move into the White House. The BBC's special correspondent Jim Naughtie reports.
0820
After the controversies of his campaign, Donald Trump will now have to build effective working relationships with new staff and politicians in the White House. Barbara Res was the chief engineer who built Trump Tower in New York.
0825
At least seven people are now known to have died in a tram crash in Croydon, in south London. Gavin Barwell is the MP for Croydon Central.
0830
Last night's exit polls show that 54 per cent of women backed Clinton compared to 42 per cent for Trump, which is not significantly different from how women voted in 2012. Naomi Wolf is CEO of DailyClout, a voter engagement tech company, and former adviser on Al Gore and Bill Clinton's presidential candidacies.
0840
Labour leader Jeremy Corbyn said the result was 'an unmistakable rejection of a political establishment and an economic system that simply is not working for most people'. Emily Thornberry is shadow foreign secretary.
0845
A new report says children who were in the scouts or guides grow into adults with better mental health – they're about 18% less likely to have a mood or anxiety disorder at age 50 than those who were not. Richard Mitchell is one of the lead researchers on the study.
0850
A controversial new study in the British Medical Journal on the use of chemotherapy for people with advanced cancer has suggested that spending a six figure sum to prolong life by a few weeks or months is unaffordable and inappropriate. Peter Wise is the author of the report and a former consultant physician.
0855
A Channel 4 documentary has revealed how brutal the reality of life inside British prisons can be – featuring numerous videos shot illegally by prisoners on smuggled-in mobile phones. Simon Ford is executive producer of the documentary.
All subject to change.