Main content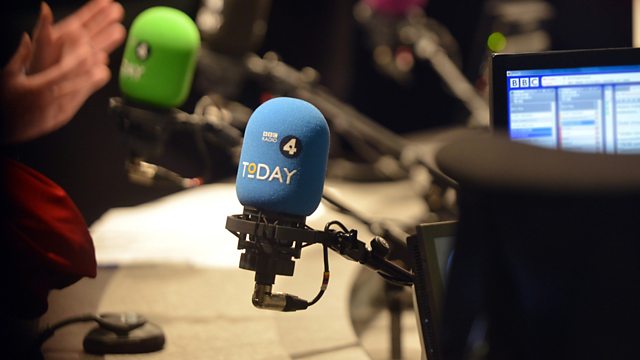 19/11/2016
Morning news and current affairs. Including Yesterday in Parliament, Sports Desk, Weather and Thought for the Day.
Last on
Today's running order
0710
The US president-elect Donald Trump has agreed a twenty-five-million-dollar deal to settle three lawsuits relating to his defunct property investment school, Trump University.  The BBC's North America correspondent David Willis reports.
0715
Pope Francis will create 17 new cardinals at a service in Rome this morning. The BBC's religious affairs correspondent Martin Bashir reports.
0720
The Justice Secretary Liz Truss set out her proposals to improve prisons earlier this month. She wants to spend £1.3 billion on new prisons over the next five years, and plans 2,100 extra officers, drug tests and more autonomy for governors. The BBC's correspondent Sanchia Berg reports.
0730
No child eligible for free school meals in the north-east went to Oxford or Cambridge after leaving school in 2010, according to a report published this week by the Social Mobility Commission. Sarah Holmes-Carne is the head teacher of Kenton School in Newcastle where about half of pupils are on free school meals, and Tim Gardam was principal of St. Anne's College Oxford until September.
0740
On this week's Meet the Author, Rebecca Jones talks to bestselling writer Cecelia Ahern about fame, talent and privacy - all themes of her latest book, the Lyrebird.
0750
The government is announcing it is planning new blocking powers to protect children from online porn. Legal porn sites will need to have some mechanism to ensure users are over 18. Jerry Barnett has just written a book called Porn Panic: Sex and Censorship in the UK, and Claire Perry is the Conservative MP for Devizes and long-time campaigner on this issue.
0810
Theresa May should throw out her plans to appeal the High Court ruling which means MPs must vote on leaving the EU. That is the advice from Conservatives such as Sir Edward Garnier, Sir Oliver Letwin, and Dominic Grieve. The BBC's political correspondent Ross Hawkins reports. Owen Paterson is a Conservative MP and Leave campaigner.
0820
Buckingham Palace is to undergo a 10-year refurbishment costing the taxpayer £369m. Daisy Goodwin is the creator of the show 'Victoria' on ITV, and Charlie Mullins is owner of Pimlico Plumbers.
0830
In a speech on Friday, NATO Secretary General Jens Stoltenberg expressed confidence that Trump would not back away from America's commitment to NATO.  Dmitry Babich is a political analyst at Sputnik International. Sir Richard Shirreff served as Nato's deputy supreme allied commander in Europe between 2011 and 2014.
0845
Scientists have improved the process of photosynthesis. The breakthrough used genetic modification to increase the amount of sunlight energy crop plants can channel into food production. That increased yield in an experimental crop by 15%. Professor Wendy Harwood is senior scientist at the John Innes Centre who has worked extensively on GM crops, and Stephen Tindale is director of Climate Answers think tank.
0850
A new BBC documentary airing next week explores an extraordinary game of football that took place in 1979. As part of Len Cantello's testimonial at West Bromwich Albion, an all-white team took on a side comprised solely of black players. Adrian Chiles is presenter of the new documentary 'Whites v Blacks: How football changed a nation', and Cyrille Regis was one of the black players who took part in the game.
All subject to change.
Broadcast