Main content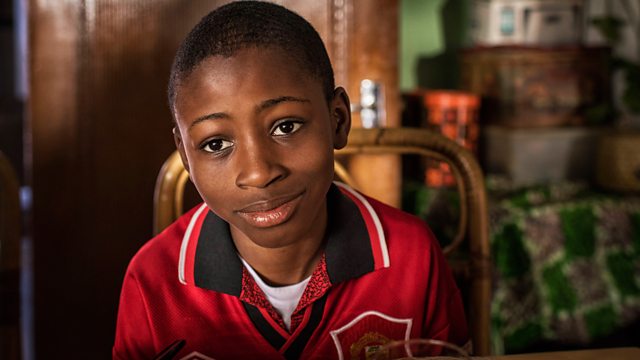 Damilola, Our Loved Boy
Feature-length family drama revealing the story of Damilola Taylor, who died on the streets of London in 2000 aged ten.
The shocking death of ten-year-old Damilola Taylor in 2000 saw an innocent schoolboy lose his life on the streets of London. In front of the world's media, his parents embarked on a gruelling path to find justice - but behind closed doors, how could their love survive such private grief? This feature-length drama reveals the personal story behind the headlines, immersing us in Damilola's world, exploring his journey from Lagos to London and looking his family's quest for justice. Told primarily from the point of view of Damilola's father, Richard Taylor OBE, this is a surprising, intimate and deeply moving story of fatherhood, family and hope.
We meet Richard and Gloria Taylor with their three children in their home in Nigeria. Eldest daughter Gbemi suffers from severe epilepsy, but having been born in London, she's entitled to life-saving treatment on the NHS. When Richard is refused leave from work to accompany Gbemi, he reluctantly agrees that Gloria should travel to the UK with their two eldest children. Ten-year-old Damilola, the only member of the family who has never been to the UK, appeals to his father to be allowed to go with them. Out of love for his youngest boy, Richard relents. Damilola is overjoyed.
When Gbemi is taken ill and admitted to hospital during a family visit to Peckham, Gloria and her children relocate to their auntie's small council flat. Gbemi receives treatment, Tunde gets a job, and Damilola begins school. He loves his new life in London.
Everything changes one November night when Gloria discovers Damilola has not returned home. Tunde rushes to his mother's side and makes a fateful call to his father back in Lagos. Richard learns from his eldest son that their beloved boy, Damilola, is dead.
Richard's journey to London, the emotional repercussions of his son's death and the family's quest for justice unfold against a backdrop of national interest and private grief. Can a father find purpose again when the world denies him justice? Can a son overcome his guilt for failing to protect his brother? And can a mother hold her family together as grief overwhelms them? This is a story of survival, redemption and hope, with a family's love at its heart.
Clips

Credits
| Role | Contributor |
| --- | --- |
| Richard Taylor | Babou Ceesay |
| Gloria Taylor | Wunmi Mosaku |
| Tunde Taylor | Juwon Adedokun |
| Damilola Taylor | Sammy Kamara |
| Gbemi Taylor | Juma Sharkah |
| DCI Nick Ephgrave | Robert Pugh |
| Dapo | Raphel Famotibe |
| Nathan | McKell David |
| Auntie Dorcas | Shola Adewusi |
| Leanne | Megan Parkinson |
| Detective Wallace | John Hollingworth |
| Junior | Gamba Cole |
| Will | Alfie Browne-Sykes |
| Tayo | Muna Otaru |
| Council Worker | Naomi Ackie |
| Cab Driver | Doc Brown |
| Prosecution Barrister | Jud Charlton |
| Defence Barrister | Richard Pepple |
| Male Witness | Mario Demetriou |
| Pathologist | Wanda Opalinska |
| Witness Bromley | Imogen Byron |
| Chris | Anthony Adjekum |
| Damilola's Teacher | Ian Bonar |
| Passionate Youth | Shanice Sewell |
| Head of Department | Teslim Animashaun |
| Writer | Levi David Addai |
| Director | Euros Lyn |
| Producer | Susan Horth |
| Executive Producer | Colin Barr |
| Production Company | Minnow Films |