Main content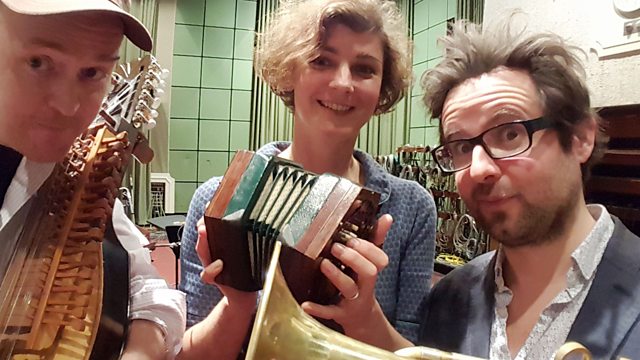 Angharad Davies, Tom Arthurs and James Yorkston
Fiona Talkington presents a collaborative session at the BBC's Maida Vale studios, featuring violinist Angharad Davies, trumpeter Tom Arthurs and singer-songwriter James Yorkston.
Fiona Talkington presents a collaboration session from Angharad Davies, Tom Arthurs and James Yorkston. Never having worked together before, the trio spent the day at the BBC's Maida Vale studio to create something special, combining each of their disciplines.
Welsh violinist Angharad Davies works across improvisation and contemporary classical composition often preparing her violin with objects or materials to extend its sonic possibilities. Trumpeter Tom Arthurs was one of the first BBC New Generation Artists for jazz from 2008-2010. Now a resident of Berlin, he leads two international trios with luminaries from the European jazz scene. An author, songwriter and lyricist from Fife, James Yorkston has had a long relationship with Domino Records where he's collaborated with Four Tet, Bert Jansch and most recently released an acclaimed album under the name Yorkston / Thorne / Khan.
Plus, an Armenian song on a 78 rpm record Fiona picked up recently in Leiden, Holland and new music from folk duo Alasdair Roberts and James Green.
Produced by Rebecca Gaskell for Reduced Listening.
Music Played
Late Junction Maida Vale Session
Late Junction – the 10 most genre-defying albums of the year
Is the synth the ultimate feminist instrument?