Main content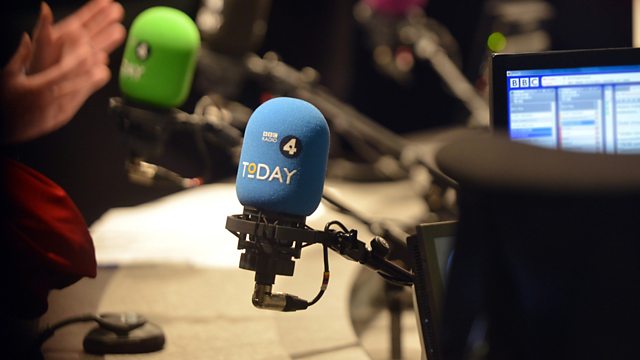 18/11/2016
Morning news and current affairs. Including Yesterday in Parliament, Sports Desk, Weather and Thought for the Day.
Last on
Today's running order
0650
The operator of France's national power grid has warned that due to technical problems it may have to take "exceptional measures", such as rolling blackouts and even paying firms that use lots of energy to switch off. The BBC's industry correspondent John Moylan reports.
0655
The last couple of years have seen a marked increase in the number of men sporting facial hair after a long period where it was a real no-go area. There is a new exhibition opening today at the Florence Nightingale Museum in London dedicated to the Victorian beard mania. Dr Alun Withey is a medical historian and beard expert from Exeter University.
0710
"Fear of Muslims is rational." That is just one of the controversial views of retired army General Mike Flynn, the man Donald Trump has just appointed as his National Security Adviser. General Jack Keane is tipped as a possible Secretary of Defence in Trump's administration.
0715
FIFA - football's world governing body - has opened disciplinary proceedings against the Scottish and English Football Associations for the wearing of poppies during last week's World Cup qualifier. Damian Collins is Conservative chair of the Culture, Media and Sport select committee.
0720
Latest results from London brewers Fuller, Smith and Turner. Today business presenter Katie Prescott speaks to chief executive of Fuller Smith and Turner Simon Emeny.
0725
An inquest at Teesside Coroner's Court heard how 18-year-old called Mitchell Bowie, who was found dead at his family's home in July, killed himself after a "fake" Facebook girlfriend threatened him. Sinead Bowie is Mitchell Bowie's sister.
0730
Shirley Oaks Survivors Association, the biggest group representing victims of child abuse within the Independent Inquiry into Child Sexual Abuse, has told the BBC it is pulling out of the process. Raymond Stevenson is chair of the Shirley Oaks Survivors Association and Labour's Chuka Umunna is calling for the chair of the Inquiry into Child Sexual Abuse to stand down.
0740
Lithuania has warned that Russian President Vladimir Putin may test Nato in the weeks before Donald Trump becomes US president. The BBC's Europe correspondent Kevin Connolly reports from the Lithuanian capital Vilnius.
0750
NHS Providers are claiming that some of the key assumptions in the Five Year Forward View, on which the current financial and NHS delivery plans for this parliament are based, have turned out to be wrong. Chris Hopson is chief executive of NHS Providers, the trade association representing NHS trusts.
0810
A High Court judge has ruled that the wish of a child, dying of cancer, to have her body preserved scientifically should be respected. The girl of 14, supported by her mother, had wanted to be frozen after death in case a cure was found in the future. Zoe Fleetwood is from Dawson Cornwell, the girl's solicitor, and Dr Anders Sandberg is member of the UK Cryonics Research network.
0820
The government has announced a £300m investment in music teaching for England's schools. Nick Gibb is minister for School Standards and Michele Lomas is a music teacher who was made redundant when the local authority closed down the music service she worked for.
0830
The government is being asked to discuss and set a date for the resumption of UK flights to Sharm el-Sheikh, one year after they were suspended over terrorism fears. His Excellency Nasser Kamel is the Egyptian Ambassador to London.
0835
Professor Elizabeth Loftus has faced consistent personal attacks and abuse for her pioneering work on the unreliability of witness testimony and the existence of 'false memories'. The cognitive psychologist's work focuses on the possibility that a therapist can accidentally implant false memories of child sexual abuse in patients' minds. Ms Loftus is a cognitive psychologist at the University of California and has been involved in the cases of mass murderers and celebrities including Michael Jackson, Ted Bundy and O. J. Simpson.
0840
NASA is currently tracking 27,000 bits of 'space junk', which is a huge potential hazard to satellites, the international space station, and any future activity in low earth orbit. Dr Hugh Lewis is head of Astronautics Research at the University of Southampton.
0850
US President Barack Obama is holding talks with close ally Angela Merkel on a last visit to Germany before he hands the job to his successor, Donald Trump. Christine Ockrent is former head of France 24 television and Silvia Castagna is an expert on social and political trends in Italy.
0855
The composer of Walking in the Air, the song that started life as the soundtrack to the animated Christmas film The Snowman, has scored a new arrangement of the iconic song. Aled Jones is the Welsh singer who recorded the single of Walking in the Air in 1985 and Howard Blake is the composer.
All subject to change.
Broadcast