Main content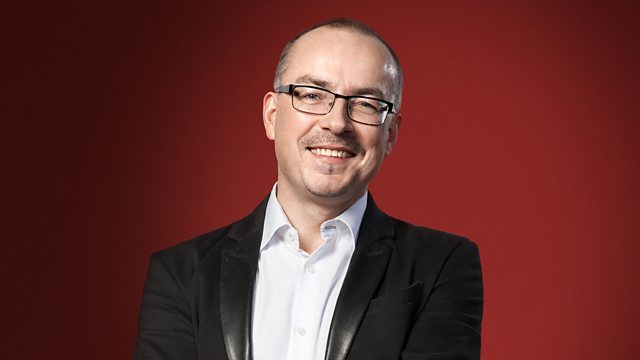 Building a Library: Vaughan Williams: A London Symphony
With Andrew McGregor. Including Building a Library: Vaughan Williams: A London Symphony; New releases, including Kaija Saariaho, Kalevi Aho and Jaakko Kuusisto; Disc of the Week.
with Andrew McGregor
0930
Building a Library: Ralph Vaughan Williams's A London Symphony. Mark Lowther makes a recommendation from the available recordings. Despite the sound of the famous Westminster chimes, the composer said that while the title may suggest a programmatic piece it was intended to be heard as absolute music. He suggested that "Symphony by a Londoner" might be a better title.
1030
Tom McKinney talks to Andrew about new releases of mainly contemporary music, mainly by Finnish composers; including pieces by Kaija Saariaho, Kalevi Aho, and Jaakko Kuusisto.
1145
Andrew chooses an outstanding new release as his Disc of the Week.
9.00am
Elgar: Enigma Variations
ELGAR: In the South (Alassio) Op. 50; Enigma Variations Op. 36; Carillon Op. 75; Une Voix dans le Desert; Le Drapeau Belge; Pleading Op. 48 No. 1
Florence Daguerre de Hureaux (narrator), Kate Royal (soprano), Yann Ghiro (clarinet), BBC Scottish Symphony Orchestra, Martyn Brabbins (conductor)
HYPERION CDA68101 (CD)

Vaughan Williams: Purer Than Pearl
VAUGHAN WILLIAMS: Summum Bonum; Crossing the Bar; Wishes; Spinning Song; Lollipop's Song; Rumpelstiltskin's Song; Linden Lea; The Last Invocation; The Love-Song of the Birds; How cold the wind doth blow; Dirge for Fidele; It was a Lover and his Lass; Searching for Lambs; The Lawyer; The Poisoned Kiss: eight songs
William Vann (piano), Thomas Gould (violin), Mary Bevan (soprano), Jennifer Johnston (mezzo), Nicky Spence (tenor), Johnny Herford (baritone)
ALBION RECORDS ALBCD029 (CD)

Remembrance
DURUFLE: Requiem Op. 9
ELGAR: They are at rest
FARRANT, R: Call to remembrance, O Lord
HARRIS, W: Bring us, O Lord God
MONK, W H: Abide with me
RAMSEY, R: How are the mighty fallen
TAVENER: Song for Athene
TOMKINS: When David Heard
WEELKES: When David Heard
Choir of Clare College, Cambridge, Graham Ross
HARMONIA MUNDI HMU907654 (CD)

As Dreams - Choral Music
JANSON, A: Nocturne
LACHENMANN: Consolation II (Wessobrunner Gebet)
NORGARD: Drommesang; Singe die Garten
SAARIAHO: Uberzeugung; Nuits, adieux
XENAKIS: Nuits
Norwegian Soloists' Choir, Oslo Sinfonietta, Grete Pedersen
BIS BIS2139 (Hybrid SACD)
9.30am Building a Library
This week, Mark Lowther compares available recordings of Vaughan Williams's
A London Symphony
and recommends a version. 
Composer: Vaughan Williams
Piece: A London Symphony
Reviewer: Mark Lowther
Recommended version: Royal Liverpool Philharmonic Orchestra, Vernon Handley (conductor)
Available on: "Vernon Handley: Champion of British Music"
Coupled with: BLISS: Edinburgh Overture
BORODIN: In the Steppes of Central Asia; Prince Igor Overture
BRUCH: Violin Concerto No. 1 in G minor Op. 26
DELIUS: Pieces (2) for Small Orchestra; Brigg Fair
ELGAR: Violin Concerto in B minor Op. 61
FAURE: Pavane Op. 50; Masques et bergamasques Op. 112
FINZI: Eclogue Op. 10
MUSSORGSKY: A Night on the Bare Mountain
RIMSKY KORSAKOV: Capriccio espagnol Op. 34; Russian Easter Festival Overture Op. 36
SIBELIUS: Violin Concerto in D minor Op. 47
TCHAIKOVSKY: Hamlet - Fantasy overture Op. 67
TIPPETT: Concerto for double string orchestra
VAUGHAN WILLIAMS: The Lark Ascending; Fantasia on a Theme by Thomas Tallis; Symphony No. 2 'A London Symphony'
WALTON: Variations on a Theme by Hindemith
City of Birmingham Symphony Orchestra, Halle Orchestra, Tasmin Little (violin), Royal Liverpool Philharmonic Orchestra, London Philharmonic Orchestra, Nigel Kennedy (violin), Piers Lane (piano), David Nolan (violin), Diana Cummings (violin), Bournemouth Symphony Orchestra, Vernon Handley (conductor)
WARNER CLASSICS 0982022 (5CD)
Other recommended recordings:
Below is a shortlist of other recordings which Mark Lowther also liked, although we can't guarantee the availability of these discs.
London Philharmonic Orchestra, Bernard Haitink (conductor)
WARNER CLASSICS 7493942
Coupled with VAUGHAN WILLIAMS: Fantasia on a Theme by Thomas Tallis
Halle Orchestra, Sir John Barbirolli (conductor)
BARBIROLLI SOCIETY SJB1021
Coupled with VAUGHAN WILLIAMS: Symphony No. 8 in D minor
Original 1913 version
London Symphony Orchestra, Richard Hickox (conductor)
CHANDOS CHAN9902
Coupled with BUTTERWORTH, G: The Banks of Green Willow

10.20am Recordings of Beethoven Cello Sonatas
Beethoven: Cello Sonatas & Variations
BEETHOVEN: Cello Sonatas Nos. 1-5 (complete); Variations (12) on "See the conquering hero comes" for Cello and Piano, WoO 45; Variations (7) on "Bei Mannern, welche Liebe fuhlen", for Cello and Piano, WoO 46; Variations (12) on "Ein Madchen oder Weibchen" for Cello and Piano Op. 66
Gautier Capucon (cello), Frank Braley (piano)
ERATO 9029595113 (2CD)

BEETHOVEN: Cello Sonatas Nos. 1-5 (complete) and variations
Miklos Perenyi (cello), Andras Schiff (piano)
ECM 4724012 (2CD)

Beethoven: Cello Sonatas
BEETHOVEN: Cello Sonatas Nos. 1-5 (complete) and variations; Horn Sonata in F major Op. 17
Steven Isserlis (cello), Robert Levin (fortepiano)
HYPERION CDA67981/2 (2CD)

Beethoven - Cello Sonatas Volume 2
BEETHOVEN: Variations (12) on "See the conquering hero comes" for Cello and Piano, WoO 45; Cello Sonata No. 4 in C major Op. 102 No. 1; Variations (12) on "Ein Madchen oder Weibchen" for Cello and Piano Op. 66; Variations (7) on "Bei Mannern, welche Liebe fuhlen", for Cello and Piano, WoO 46; Cello Sonata No. 5 in D major Op. 102 No. 2
Daniel Muller-Schott (cello), Angela Hewitt (piano)
HYPERION CDA67755 (CD) 
10.45am Tom McKinney on new releases of contemporary music
RASMUSSEN, S: Symphony No. 2 'The Earth Anew'
Cyndia Sieden (soprano), Bo Skovhus (soprano), Akademiska Sangforeningen, Muntra Musikanter, Helsinki Philharmonic Orchestra, John Storgards (conductor)
DACAPO 8226175 (CD)

Glow: Chamber Music by Jaakko Kuusisto
KUUSISTO, J: Play III for string quartet Op. 21; Valo ('Light') for violin and piano Op. 23; Play II for violin, viola, cello and piano Op. 16; Loisto ('Glow')for violin and piano Op. 12; Jurmo for piano solo Op. 31
Jaakko Kuusisto (violin), Paavali Jumppanen (piano), Riitta-Liisa Ristiluoma (viola), Jan-Erik Gustafsson (cello), Heini Karkkainen (piano), Meta4
BIS BIS2192 (Hybrid SACD)

Bruun: The Green Groves
BRUUN: Perletaredraber (Pearls of Tears); The Green Groves; The Black Waters; Big Bird and his Friends
Ensemble MidtVest
DACAPO 8226571 (CD)

Kaija Saariaho: Chamber Works for Strings Vol. 2
SAARIAHO: Fleurs de Neige; Aure; Du gick, flog (You went, flew); Nocturne; Changing Light; …de la Terre; Die Aussicht (Vista); Terra Memoria for String Orchestra
Pia Freund (soprano), Marko Myohanen (electronics), Meta4
ONDINE ODE12422 (CD)

Fagerlund & Aho: Bassoon Concertos
AHO: Solo V; Bassoon Concerto
FAGERLUND: Bassoon Concerto, 'Mana'; Woodlands
Bram van Sambeek (bassoon), Lahti Symphony Orchestra, Okko Kamu (conductor), Dima Slobodeniouk
BIS BIS2206 (Hybrid SACD)
11.45am Disc of the Week
Richard Strauss: Suites from Elektra & Rosenkavalier
STRAUSS, R: Elektra: suite (conceptualized by Manfred Honeck, realised by Tomáš Ille); Der Rosenkavalier – Suite (arranged by Artur Rodzinski)
Pittsburgh Symphony Orchestra, Manfred Honeck (conductor)
REFERENCE RECORDINGS FR722 (Hybrid SACD)