Main content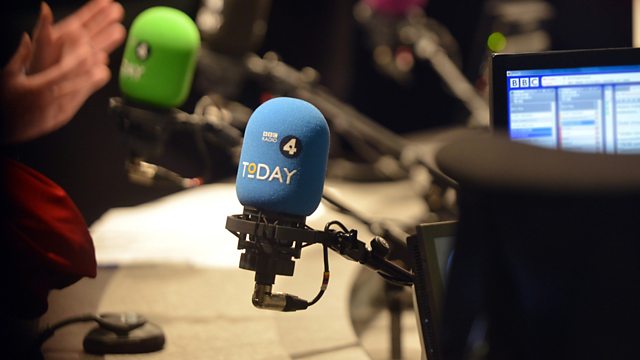 17/11/2016
Morning news and current affairs. Including Yesterday in Parliament, Sports Desk, Weather and Thought for the Day.
Today's running order
0615
Governor of the Bank of England, Mark Carney, said politicians who criticised the bank were engaged in a "massive blame deflection exercise." Andrew Sentance is a senior economic advisor at PwC and a former Monetary Policy Committee member.
0650
The Cirl Bunting – one of Britain's most threatened farmland birds – has secured a comeback from the brink of extinction. The RSPB's latest survey shows the UK population has reached more than 1000 pairs. Cath Jeffs is the RSPB's Cirl Bunting Project manager.
0655
Barack Obama is due to meet Angela Merkel later today during his final official visit to Germany.  Our Berlin correspondent Jenny Hill has been to the town of Bamberg to find out why so many Germans are horrified by Donald Trump.
0710
Donald Trump has usually preferred the coverage of Breitbart News – a politically conservative website which is said to espouse the views of the "alt-right". He's hired the website's executive chairman Steve Bannon as his chief strategist. Joel Pollak is senior editor at large of the publication.
0715
Former police chief Sir Norman Bettison says he has been victim of a witch-hunt over Hillsborough. Dr Dorothy Griffiths lost her brother, Vincent Fitzsimmons, in the disaster.
0720
One of the main targets from the next wave of airstrikes in the Syrian city of Aleppo appears to have been a childrens' hospital. Our correspondent Mike Thomson has spoken to Dr Hatem, the director of the hospital.
0730
Plans to curb the power of the House of Lords have been dropped by the government. The BBC's political editor Laura Kuenssberg reports.
0740
On Wednesday morning we played Northumbria Police's recording of the 999 emergency call made by 4 year old Suzie McCash. Suzie from Tynemouth made the call after her mum Rowena collapsed suffering respiratory arrest following an allergic reaction. Northumbria Police gave Suzie a bravery award for calmly ringing 999.
0750
Ed Balls, former shadow chancellor and Strictly contestant, has written a Harvard paper proposing limits on central bank independence. It comes amid growing resentment towards central banks in the US, UK and the Eurozone. 
0810
Justice Secretary Liz Truss must handle the backlog of inmates being held beyond their minimum term. The chief inspector of prisons says it was "completely unjust" that offenders serving Imprisonment for Public Protection (IPP) sentences were "languishing in jail". Peter Clarke is the chief inspector of prisons, and April Ward is the sister of James Ward, who was sentenced under IPP.
0820
The Red Shoes is one of the most famous films about ballet and now nearly 70 years on, it's being turned in to a ballet.  The choreographer Matthew Bourne, known for his largely male Swan Lake, has taken on the British dance classic, and the premiere for his new work will take place next week.
0830
A lack of dementia training for homecare workers is leaving people with Alzheimer's and those who care for them under intolerable stress, according to an investigation by the Alzheimer's Society. Charlotte Cummings says her grandmother became unwell after receiving poor home care. Jeremy Hughes is the chief executive of Alzheimer's Society.
0835
A dictionary which explains the linguistic origins, history and geographical distribution of over 45,000 of Britain and Ireland's family names is published today. The Oxford Dictionary of Family Names in Britain and Ireland is the culmination of a huge research project. Professor Richard Coates was the principal investigator of the project.
0840
The Japanese Prime Minister, Shinzo Abe, today becomes the first foreign leader to meet Donald Trump since the billionaire businessman won last week's American presidential election. During his campaign, Mr Trump often condemned a major free trade deal struck by President Obama with Japan and ten other Pacific Rim countries. The BBC's diplomatic correspondent Paul Adams reports.
0845
Millions of motorists could see their car insurance premiums reduced as a result of plans to cut compensation for whiplash injuries. Whiplash claims have risen by 50% over the last decade, costing insurance companies about £1bn a year. The BBC's business editor Dominic O'Connell reports.
0850
Liam Byrne, the MP for the constituency with the highest number of Muslim constituents in Britain, is says that the threat of radicalisation is peaking. In a new book, Black Flag Down, Byrne says new laws are needed to force social media companies to disclose possible signs of radicalisation from users on their platforms. Jahan Mahmood is a former adviser to the Home Office and is now a consultant on counter extremism interventions.
All subject to change.