Main content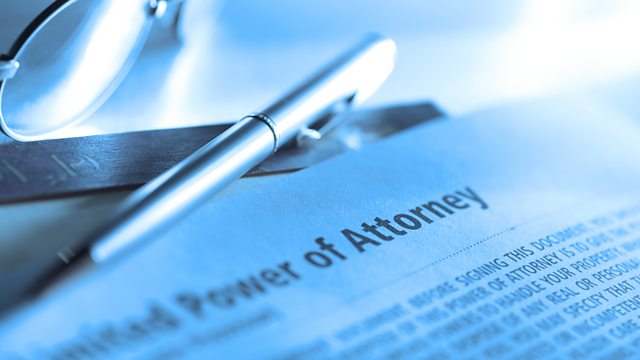 Money Box Live: Power of Attorney - Your Questions Answered
Financial phone-in with Louise Cooper and a panel of guests answering questions about power of attorney.
A power of attorney is a means of granting legal permission for one or more people to manage and make financial decisions on your behalf when you are unable to. It can be temporary or permanent and the rules surrounding how it works and what it covers can vary in different parts of the UK.
Whether you're considering setting up a power of attorney, or if you manage one but are having problems exercising it with a bank or building society, we'd like to hear from you. Send your questions, experiences or views by e-mail now to moneybox@bbc.co.uk.
From 1pm to 3.30pm on Wednesday 16 November you can also call 03700 100 444, standard geographic charges from landlines and mobiles will apply.
Guests: Sandra McDonald, Public Guardian Scotland
Holly Chantler, Board Member Solicitors for the Elderly and Partner Morrisons Solicitors
George McNamara, Head of Policy, Alzheimer's Society
Presenter: Louise Cooper
Producer: Charmaine Cozier
Editor: Andrew Smith.