Main content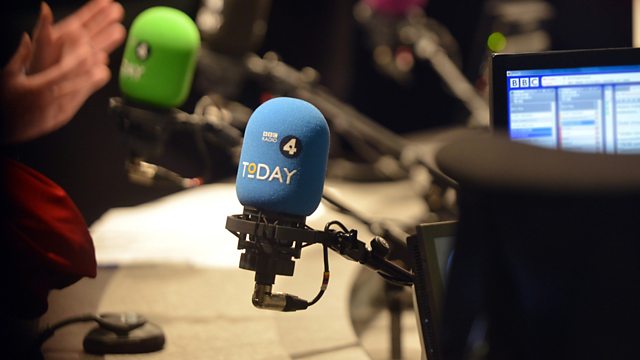 16/11/2016
Morning news and current affairs. Including Yesterday in Parliament, Sports Desk, Weather and Thought for the Day.
Last on
Today's running order
0615
Financial markets are still digesting what Donald Trump's victory means. Today business presenter Dominic O'Connell speaks to Diana Furchtgott-Roth, economist and volunteer adviser to Trump's 2016 presidential campaign.       
0650
Researchers from the University of Veterinary Medicine in Vienna and Oxford University have shown that Goffin's cockatoos can make and use elongated tools of appropriate shape and length out of different materials in order to reach a reward. Professor Alex Kacelnik is from the University of Oxford's Department of Zoology.
0655
A collection of documents donated to Imperial War Museums has revealed over 500 first-hand accounts of the Battle of the Somme, the majority of which have never been seen before. Charlotte Czyzyk is looking at these accounts from the Somme and adding them to their online project, Lives of the First World War.
0710
The US government has condemned a new offensive in Syria by Russia and forces loyal to President Assad. Air strikes have been launched from a Russian aircraft carrier on what the Kremlin says are terrorist training camps, in the provinces of Idlib and Homs. Justin Forsyth is deputy director of Unicef and a UN Assistant Secretary General.
0715
Any loss of ancient woodland destroyed as a result of HS2 should be compensated at a ratio of 30 hectares planted for every one lost, according to a government report from Natural England released last week. Rebecca Speight is an ecologist from the Woodland Trust.
0720
A Labour-backed review into housing policy, led by the boss of Taylor Wimpey, is out this morning. Pete Redfern is CEO of Taylor Wimpey.
0725
The president of the International Olympic Committee has defended his handling of the Russian athlete doping scandal before the Rio Olympics. The BBC's sports editor Dan Roan has been speaking to president of the International Olympic Committee Thomas Bach. Michele Verroken is founding director of Sporting Integrity.
0730
The BBC understands that Aileen McColgan, the barrister leading the abuse inquiry's investigations into the Anglican and Catholic Church, has resigned because of serious concerns over the inquiry's leadership. Yvette Cooper MP is chair of the Home Affairs select committee.
0740
Archaeologists have found a major Anglo Saxon burial ground on farmland in Norfolk. Jim Fairclough is project supervisor at the Museum of London Archaeology and was in charge of the dig at Great Ryburgh.
0750
The White House says Vice President-elect Mike Pence has yet to sign a key document governing the presidential transition, prompting a delay in the process of turning over power to President-elect Donald Trump. Mike Duhaime is senior adviser to Governor Chris Christie, the Vice Chair of Trump's transition team.
0810
At the end of last month the EU and Canada signed a landmark trade deal - seven years in the planning - known as Ceta. Canada's economy is ranked at tenth in the world so either retaining a trade deal post-Brexit or negotiating a new one will be key to the UK government's new economic plan. Bill Morneau is Canada's finance minister.
0820
Fantastic Beasts and Where to Find Them, a spin-off from Harry Potter, is released in the UK this Friday. Sarah Montague has been speaking to the film's star Eddie Redmayne.
0830
The BBC World Service today announced its biggest expansion since the 1940s, in a move designed to bring its journalism to millions more people around the world, including in places where media freedom is under threat. Fran Unsworth is BBC World Service director.
0835
The RSPCA should be stripped of its powers to routinely prosecute animal welfare cases, the Commons environment committee has recommended. Tim Bonner is chief executive of the Countryside Alliance and David Bowles is assistant director for external affairs at the RSPCA.
0840
Ron Dennis, who has been the boss of the McLaren Formula One team for more than 35 years, has resigned after a bitter dispute with other shareholders. Mark Jenkins is professor of business strategy at Cranfield University School of Management.
0850
Justice Secretary Liz Truss is said to be prepared to meet prison officers to discuss their concerns about rising violence and staff shortages. Labour MP David Lammy published the Lammy Review into racial bias in the English and Welsh justice systems and Junior Smart is a former offender who now works with the St Giles Trust.
All subject to change.
Broadcast