Main content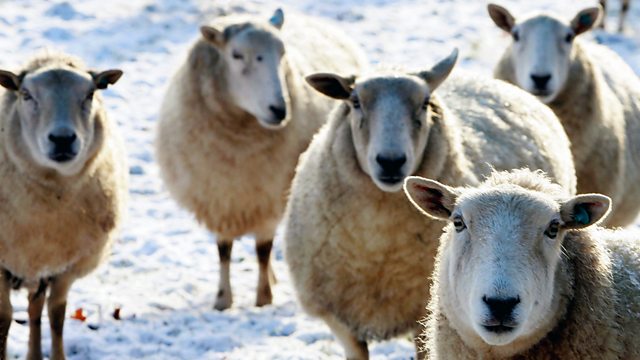 National Trust criticised by tenant hill farmer, High Commissioner of New Zealand offers talks about British agriculture
Presented by Anna Hill. The National Trust has very little interest in the welfare of hill farmers, says a Lake District tenant farmer, but the National Trust begs to differ.
The National Trust has very little interest in the welfare of hill farmers, says Lake District tenant farmer. But the National Trust begs to differ.
The High Commissioner of New Zealand offers his perspective on the future for British agriculture.
At the Agri-Tech Research Hub in Cambridgeshire farmers, scientists and manufacturers come together to explore new ideas on how to turn food waste into something profitable.
Presented by Anna Hill and produced by Beatrice Fenton.
National Trust Statement:
The National Trust has been part of the fabric of Lake District life for over a century and we remain as committed as ever to supporting fell farming.
We are rooted within the Lakes' farming community; looking after 50,000 hectares of land in the Lake District, let 54 tenanted farms and own a flock of 21,000 Herdwick sheep.
We recognise our responsibility to the breed and the unique role that it plays in the management of the landscape - and Herdwicks will continue to be a key part of Lake District life.
The Trust has around 70 people working on the ground in the Lakes, including many who work on a day to day basis with our farm tenants. We also spend several millions pounds a year on managing landscapes, funding farm projects and investing in our farms.
We want to play our part in nurturing the next generation of hill farmers. One of our key ambitions over the next few years is to help young farmers develop the skills, expertise, new business models and practical experience they will need.
We however also need to face up to the significant challenges facing upland areas like the Lakes. There is huge uncertainty over farm subsidies post Brexit and extreme weather means there's a greater risk of flooding in many areas.
We don't pretend to have all the answers to these big, complex issues. We're committed to listening, discussing and working in partnership with local communities, farmers and other stakeholders to look after this unique place that we all love.
Tenant concerns
We work hard to build good relationships with our farmers but we recognise there's always more we can do. We're listening and we want to work in partnership with all our farmers.
Last on
Broadcast