Main content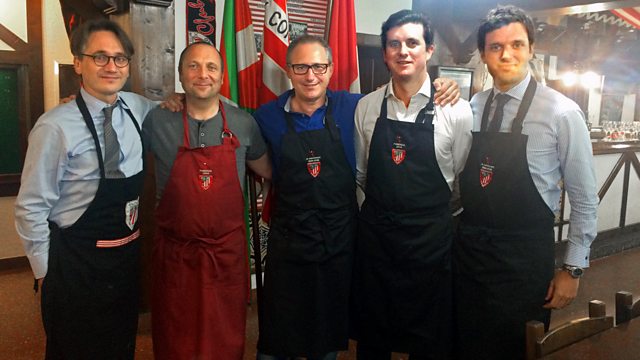 Cooking clubs in Basqueland
Spain's Basque region exerts a powerful influence on global cuisine, Dan Saladino finds out why. Heston Blumenthal and writer Harold Mcgee provide insights into this food culture.
Last on
Caroline Conran's Recipe for Marmitako: A Tuna Fish Soup
Taken from By the Atlantic (Prospect Books)
Apparently this soup-stew began life on the Basque fishing boats; onions, potatoes and dried peppers will all last a month or two on board a boat, so all that needed to be done was to catch the tuna. Instead of potatoes, you could try adding the sweetness and golden colour of pumpkin or squash.
500g (1 lb 2 oz) fresh tuna
2 dried choricero or ancho chillies
250g (9 oz) small red potatoes or 1 acorn squash, peeled, deseeded and cubed
6 tablespoons olive oil 1
 large red onion, finely chopped
2 cloves of garlic, chopped
1 red pepper, grilled  
2 teaspoons paprika
250ml (81⁄2 fl oz) white wine
2 tablespoons chopped parsley
salt
Cut the fish, skin removed, into chunks and salt it for 30 minutes. Pour boiling water over the chillies and let them soak until soft.
The potatoes are not cut, but broken into chunks the size of a chestnut, by inserting a knife or an oyster shucker and levering bits off. The rough surfaces will release their starch to thicken the soup.
Open the softened dried peppers, remove the seeds, and scrape up the inner pulp from the skins with a knife. Chop the pulp a bit, as it can be stringy.
Heat the olive oil and add the onion; let it soften then add the garlic and choricero or ancho pepper pulp, stir well and cook for 5 more minutes.
Add the red pepper cut in small pieces, the paprika, the potatoes or squash, and the white wine. Let it bubble for a few minutes. Add 1 litre (35 fl oz) of water to cover well and season with salt. Simmer for 30 minutes over a low heat.
Add the fish and chopped parsley and bring to a quick simmer. Turn off the heat and allow to stand, covered, for 10 minutes. Flake the pieces of tuna carefully, Spoon potatoes and soup into bowls and place the flaked tuna on top, then serve with bread. (Serves 4)
Credits
| Role | Contributor |
| --- | --- |
| Presenter | Dan Saladino |
| Interviewed Guest | Heston Blumenthal |
| Interviewed Guest | Harold McGee |
Broadcasts