Main content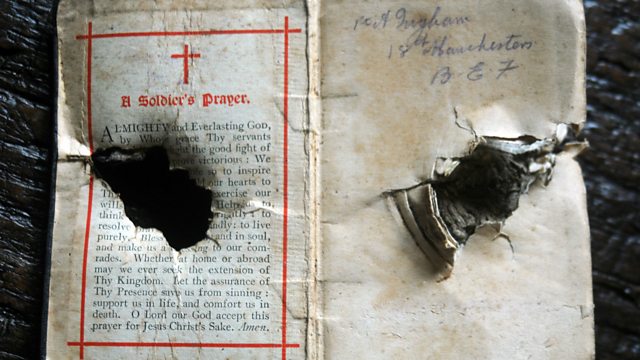 13/11/2016
The story of one life-saving bible in the First World War, the reaction of religious groups to the US election result and the poems of Terry Waite.
Representatives of the UK's faith communities will be joining veterans and dignitaries for this year's Remembrance Sunday commemorations at the Cenotaph. William Crawley speaks to Qari Asim, senior Imam at Leeds Makkah Mosque, who will be laying a wreath on behalf of Britain's Muslims.
For many of the soldiers on the frontline during the First World War, the Bible they were issued with offered spiritual comfort. As Hazel Southam reports, one bible did more than that. It saved a life.
Why did so many Evangelical Christians vote to elect Donald Trump as the next US President? Author and theologian, Jim Wallis and Charmaine Yoest from the conservative Christian organisation, American Values, debate.
How do America's Muslims feel about their future under a Donald Trump presidency? Zainab Chaudry of the Council on American-Islamic Relations and Saba Ahmed, president and founder of the Republican Muslim Coalition, share their views.
Terry Waite speaks to Sunday about a new collection of poems, memories and reflections called 'Out of the Silence', to mark the 25th anniversary of his release from captivity in Beirut.
A survey conducted for the Chief Rabbi suggests a quarter of Jewish workers are wary of talking openly about their faith at work and some have difficulty getting time off for important religious festivals. Kevin Bocquet reports.
Producers:
Dan Tierney
Catherine Earlam
Series producer:
Amanda Hancox
Picture courtesy of Bible Society/Clare Kendall.
Last on
Chapters
US Election

How do America's Muslims feel about their future under a Donald Trump presidency?

Duration: 06:44

Religion In The Workplace

Survey suggests a quarter of Jewish workers are wary of talking about their faith at work.

Duration: 07:32

Terry Waite

Terry Waite speaks to Sunday about a new collection of poems, memories and reflections.

Duration: 06:33

Bullet In The Bible

Hazel Southam reports on a how a bible saved a soldiers life.

Duration: 06:07

Remembrance Sunday

Representatives of the UK's diverse faith communities join veterans at the Cenotaph.

Duration: 04:43

US Election

Why did so many Evangelical Christians vote to elect Trump as the next US President?

Duration: 09:29

Broadcast

All the colours of the rainbow