Main content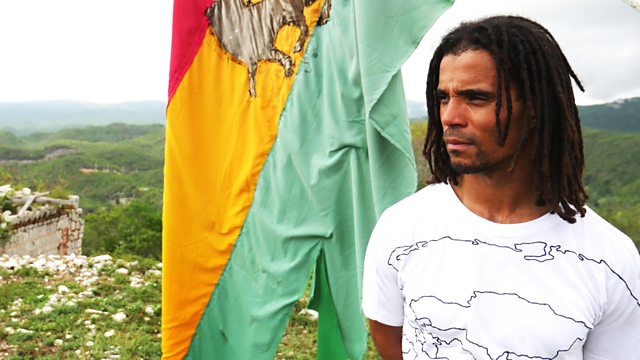 Roots, Reggae, Rebellion
British rapper and poet Akala tells the story of roots reggae, when a group of Jamaican musicians took songs of Rastafari, revolution and hope to the international stage.
In the 1970s, Jamaica came alive to the sounds of roots reggae. British rapper, poet and political commentator Akala tells the story of this golden period in the island's musical history, a time when a small group of musicians took songs of Rastafari, revolution and hope to the international stage.
Growing up in London, Akala's family immersed him in roots reggae from an early age so he has a very personal connection to the culture. It has informed his own songwriting, poetry and political worldview, but it's an upbringing that he now feels he's taken for granted.
In this documentary, Akala sets out to find out more about the music that has had such an impact on his life. He begins by exploring the music's origins in Jamaica, where it offered hope to ordinary people at a time when poverty, political violence and turmoil were ravaging the island. Artists like Bob Marley, Big Youth and Burning Spear began to write about suffering and salvation through Rastafari in their songs. Akala unpicks how all of this evolved.
Back in the UK, Akala reveals how the Jamaican artists and our own British roots reggae bands like Steel Pulse became a cultural lifeline for young black people who were experiencing racism and rejection in their own country. He shows how roots reggae also related to a wider audience, its revolutionary message connecting with an increasingly marginalised UK youth.
Clips

Music Played
Timings (where shown) are from the start of the programme in hours and minutes
00:03

Bob Marley & The Wailers

Want More

00:04

The Abyssinians

Declaration Of Rights

00:04

King Tubby

&

Carlton Patterson

King At The Controls

00:06

Third World

Jah Glory

00:06

Charlie Binger & His Quartet

Jamaica Is The Place To Go

00:08

The Upsetters

Zion's Blood

00:10

Alton Ellis

Rock Steady

00:12

Burning Spear

Slavery Days

00:14

Bob Marley & The Wailers

400 Years

00:14

Burning Spear

Marcus Garvey

00:16

The Silvertones

African Dub

00:18

Folkes Brothers

Oh Carolina

00:19

The Upsetters

Black Vest

00:21

Lord Tanamo

Dash Of The Sunshine (feat. The Skatalites)

00:23

The Skatalites

Guns Of Navarone

00:24

Laurel Aitken

Hailes Selassie

00:24

The Upsetters

Dread Lion

00:25

Bob Andy

Sun Shines For Me

00:31

Dennis Brown

Only A Smile

00:32

Big Youth

Dread Organ

00:32

Bob Marley & The Wailers

No Water

00:33

Desmond Dekker & the Aces

Israelites

00:21

Millie

My Boy Lollipop

00:34

Boris Gardiner

Elizabethan Reggae

00:35

Burning Spear

Dread River (Jordan River)

00:36

Skin, Flesh & Bones

Big Youth Special

00:37

Bob Marley & The Wailers

Concrete Jungle

00:39

Bob Marley & The Wailers

Trenchtown Rock

00:39

Bob Marley

&

The Wailers

I Shot The Sheriff

00:41

The Upsetters

Revolution Dub

00:42

The Gladiators

Know Yourself Mankind

00:44

Junior Murvin

Police And Thieves

00:47

Poet and the Roots

All Wi Doin' is Defendin'

00:51

The Heptones

Sufferer's Time

00:53

Bob Marley & The Wailers

Jamming

00:56

Generation X

Your Generation

00:56

The Damned

New Rose

00:57

The Ruts

Babylon'S Burning

00:59

Damian Marley

Welcome to Jamrock

00:59

Protoje

Who Knows (Shy FX Remix) (feat. Chronixx)

Remix Artist: Shy FX.
Credits
| Role | Contributor |
| --- | --- |
| Presenter | Akala |
| Writer | Akala |
| Writer | James Hale |
| Producer | James Hale |
| Director | James Hale |
| Executive Producer | James Hayes |
| Production Company | Lazerbeam |
Featured in...
A special collection of programmes celebrating reggae music.

Get the inside track on some of music's most influential songs, albums and personalities.