Main content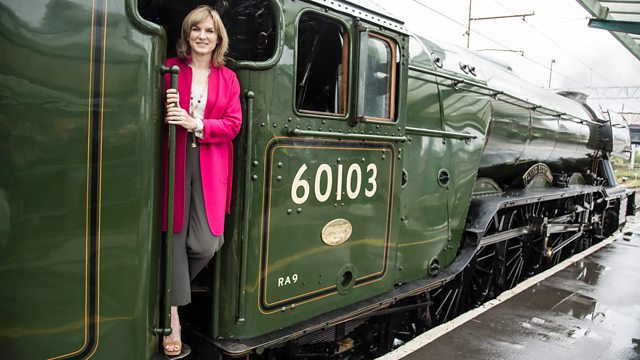 Golden Age of Travel Special
Antiques Roadshow boards the Flying Scotsman for a special edition that celebrates the golden age of travel.
In an ambitious first, Antiques Roadshow boards Britain's most famous steam locomotive for a special edition that celebrates the golden age of travel. Fresh from her ten-year restoration programme, the Flying Scotsman welcomes Fiona Bruce and experts, as well as visitors who bring treasured family heirlooms that each tell tales from different eras of travel's bygone days.
As the locomotive thunders across Cumbria and Yorkshire, visitors on board tell experts about relatives who took part in some of the greatest moments in travel history. Family legends like the great-grandfather who drove the Flying Scotsman on its 1928 record-breaking non-stop journey from London to Scotland and the pilot who flew in the early days of luxury air travel, when flying boats delivered guests to five-star hotels around the world.
Experts Paul Atterbury, Hilary Kay and John Foster excitedly examine a range of travel-related objects, including a porthole from the wreck of the ocean liner RMS Lusitania and designer cutlery used by celebrities on board Concorde. Perhaps the most enthusiastic accolade is shown for an iron bar bearing the numbers 60103 - recognised by rail enthusiasts worldwide as the original smoke box number plate for the Flying Scotsman.
Clips

Credits
| Role | Contributor |
| --- | --- |
| Presenter | Fiona Bruce |
| Expert | Paul Atterbury |
| Expert | Hilary Kay |
| Expert | John Foster |
| Executive Producer | Simon Shaw |
| Producer | Simon Pass |