Main content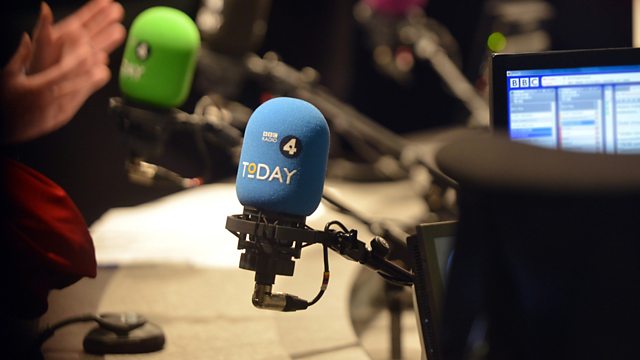 03/11/2016
Morning news and current affairs. Including Yesterday in Parliament, Sports Desk, Weather and Thought for the Day.
Today's running order
0650
The consultants PWC have released a report calling for more power to be devolved to regional health leaders to improve the organisation of the NHS in England. Alan Milburn is a former Health Secretary and one of the authors of the report.
0655
An invasive flatworm from Brazil that is already a threat to agriculture across France, and is spreading rapidly through Europe, has arrived in the UK. Matt Shardlow is CEO of conservation charity Buglife.
0710
The Justice Secretary is announcing a major recruitment drive to ease staffing shortages in prisons in England and Wales. Dame Sally Coates is a former head teacher who carried out a review of education in prisons for the government earlier this year.
0715
The football associations of England and Scotland say they will defy a ban on players wearing poppies when the teams meet on Armistice Day. David Bernstein is the former chairman of the Football Association.
0720
At midday the Bank of England will announce whether it has decided to cut interest rates for a second time since the referendum, and indicate how high it expects inflation to rise. The BBC's economics editor Kamal Ahmed reports.
0730
The pensions regulator has formally begun enforcement action to help plug the black hole in the BHS pension scheme. The BBC's business editor Simon Jack joins Steve Webb, the former Minister of State for Pensions.
0740
The head of the Catholic Church in England and Wales has apologised for hurt caused to young unmarried mothers who say they were pressured into handing over their babies for adoption in the decades after the Second World War. Diana's baby's adoption was overseen by the Catholic Church in 1974.
0750
The polls are tightening in the lead up to next week's US presidential election. The BBC's North America correspondent James Naughtie reports from the marginal state of New Hampshire.
0810
The Justice Secretary is announcing a major recruitment drive to ease staffing shortages in prisons in England and Wales. Liz Truss is the Justice Secretary.
0820
Controlled explosions of 2,4-DNP at schools around the country have been conducted in the name of health and safety. Could these explosions hint at a way to increase student engagement with science? Andrea Sella is professor of Inorganic Chemistry at UCL, and Fran Scott presents science programmes for children on television.
0835
The so-called Islamic State leader Abu Bakr al-Baghdadi called on his fighters to resist as Iraqi forces were poised to enter the city of Mosul where he declared a "caliphate" two years ago. The BBC's Middle East correspondent Ian Pannell reports. Rosemary Hollis is professor of International Politics at City University, and Major General Tim Cross is the most senior British military officer involved in the American-led post-war planning for Iraq.
0850
A study by Playmakers programme, created by the University of Bedfordshire and Virgin Active, says PE is more effective if children are able to create their own games. Tyrone West is a primary school teacher who trained as a PE teacher in his newly qualified teaching year, and Dr Helen Ives is senior lecturer in Physical Education and Sport at University of Bedfordshire.
0855
'My Feral Heart' is the story of a man with Down's syndrome suddenly forced into a group care facility when his elderly mother dies. It is one of the few productions to cast a person with a disability in the lead role. Jane Gull is director of My Feral Heart, and Steven Brandon is a lead actor in the production.
All subject to change.