Main content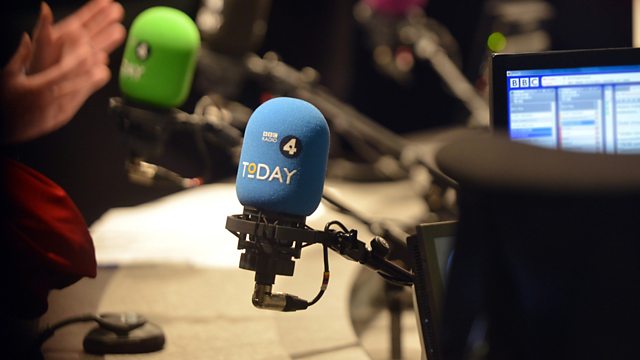 04/11/2016
Morning news and current affairs. Including Yesterday in Parliament, Sports Desk, Weather and Thought for the Day.
Last on
Today's running order
0615
In Paris last year a historic deal to reduce climate change was made. Seven major oil and gas companies will later today announce what they are planning to do. Frances Way is co-chief operating officer at CDP, a not-for-profit that tracks what businesses do with their carbon.
0650
One in four parents in Britain fear that teaching religion to their children will alienate them at school, according to a report out today by Christian think tank Theos. Nick Spencer is head of Theos.
0655
On Sunday Bulgaria holds its presidential election and there are real concerns from the outgoing president about Russian influence. The BBC's security correspondent Gordon Correra reports.
0710
The government has said it will fight a High Court ruling that could frustrate its timetable for Brexit, claiming that voters want them to "get on with it". David Mcallister is an MEP and a senior member of Angela Merkel's CDU party.
0714
The Prime Minister is expected to speak to President of the EU Commission Jean-Claude Juncker today to say she intends to stick to her March 2017 deadline for triggering Article 50. The BBC's correspondent Sima Kotecha reports from Barnsley.
0717
The Bank of England has revealed a dramatic rise to its inflation forecast for next year, predicting that the rate will almost triple. Ben Broadbent is deputy governor of the Bank of England.
0722
Fewer people are taking claims to an employment tribunal because of fees of up to £1,200, according to research by the TUC. Frances O'Grady is the general secretary of the TUC.
0735
Donald Trump, a man who has never been elected to any public office in his 70 years, is five days away from potentially being elected to the most powerful job in the world. The BBC's North America correspondent Jim Naughtie has been talking with Anthony Scaramucci, a close adviser of Donald Trump.
0740
In his new book 'Honk, Conk and Squacket', author Ian Rawes argues that in the past, people paid more attention to the sounds around them than we do today, and that losing words such as 'creist' (a laboured sound in breathing) have made our language far less lively and interesting.
0750
Russia will allow rebels in Aleppo to leave unharmed and with their weapons via two special corridors today, while six other routes will be opened for civilians, the sick and wounded. The BBC's Middle East correspondent Owen Bennett-Jones reports. Jan Egeland is head of the UN's humanitarian team for Syria.
0810
The Prime Minister is expected to speak to president of the EU Commission Jean-Claude Juncker today to say she intends to stick to her March 2017 deadline for triggering Article 50. Nick Clegg is the former deputy prime minister and prominent Remain supporter, and Theresa Villiers is the former Northern Ireland secretary and prominent Leave supporter.
0820
East Kilbride FC could break the world record for consecutive games won on Saturday. The semi-professional club equalled the record of 26 – set by Dutch giants Ajax – last weekend. Martin Lauchlan is the manager of East Kilbride Football Club.
0830
Later today, the governor of the Bank of England, Mark Carney, will present the findings of the Bank's quarterly inflation report. Their policy of low interests and quantitative easing are being questioned by some. David Laws is a former Liberal Democrat MP who was an early proponent of making the Bank of England independent from the government, and Ros Altmann is the former pensions minister.
0835
International Trade Secretary Liam Fox will open a new, £400 million 'super port' in Liverpool today. Gary Hodgson is the chief operating officer of Peel Ports Group.
0840
60 years ago, people in Budapest rose up against the Soviet rulers in what was seen as a defining moment in the Cold War. What followed was a brutal crackdown which cemented the Soviet Union's dominance in the region for the next 30 years. Victor Sebesteyn is author of 'Twelve Days: Revolution 1956 and Revolution 1989: The Fall of the Soviet Empire', and Councillor Tom Leimdorfer, a Hungarian refugee who came to the UK in December 1956.
0845
The largest earthworm ever recorded in the UK has been found in a vegetable plot in Cheshire. It is 40cm long and weighs 26g, making it more than twice as heavy as the previous British record holder. Emma Sherlock is a scientist at the Natural History Museum.
0850
Following yesterday's High Court announcement, there have been suggestions from MPs and pundits that Theresa May might be forced to call an early election to ensure she has enough supportive MPs to get her Brexit plan through the House of Commons. Rachel Sylvester is a weekly columnist and political interviewer for the Times, and Tom Newton Dunn is political editor of The Sun.
All subject to change.
Broadcast