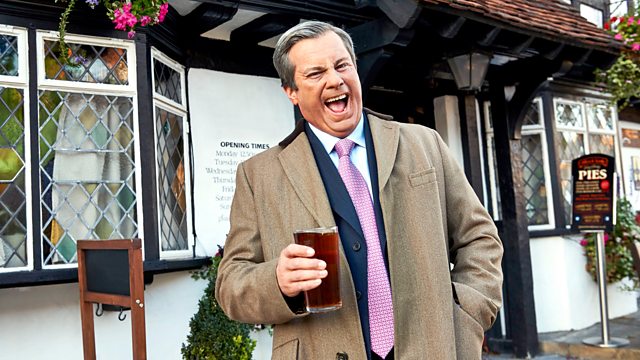 Nigel Farage Gets His Life Back
On the 23 June, Britain voted to leave the European Union. Then, on the 4 July, Nigel Farage, the man who had made it all possible, resigned saying he wanted his life back. But what sort of life has he gone back to, and how does a man forever in the spotlight fill his days now he has nothing to do?
Starring Kevin Bishop as Farage, Nigel Farage Gets His Life Back is a fly-on-the-wall mockumentary following the day-to-day reality of being Nigel Farage.
We see the public 'Nigel', the colourful character that the country has come to know and love/hate. Straight-talking, unencumbered by political correctness, a jovial source of seemingly eternal banter, usually delivered through a haze of cigarette smoke over a few cheeky pints of beer.
We also bear witness to private 'Nigel', the man behind the facade, at home, eating bangers and mash watching Pointless and insisting he doesn't miss the limelight, that he is much happier out of politics and that he never wanted to be prime minister anyway.
Kevin Bishop said, "I'm delighted to be playing a character as colourful as Farage. He's a gift to parody and I'm looking forward to bringing previously unseen aspects of his life to the screen."
Aside from drinking in his local pub, rubbing shoulders with Donald Trump and growing a moustache, we see what else Nigel Farage has been up to in his 'summer holiday'. The programme is an overtly funny portrait of one of the most divisive men in Britain as he adjusts to a post-Brexit life.
Credits
| Role | Contributor |
| --- | --- |
| Nigel Farage | Kevin Bishop |
| Mrs F | Madeleine Bowyer |
| Colin | Tony Way |
| Drinker | Dean Roberts |
| Busker | Ruth Westley |
| Margaret | Joan Blackham |
| Adrian Gibson | Mark Rice-Oxley |
| Chop House Waitress | Beatrice Walker |
| Pat | Pandora Colin |
| Kazimierez | Rad Kaim |
| Waheed | Asheq Akhter |
| Debbie | Sarah Hoare |
| Producer | Kate Daughton |
| Director | Ben Palmer |
| Writer | Alan Connor |
| Writer | Shaun Pye |
| Production Company | Zeppotron |