Main content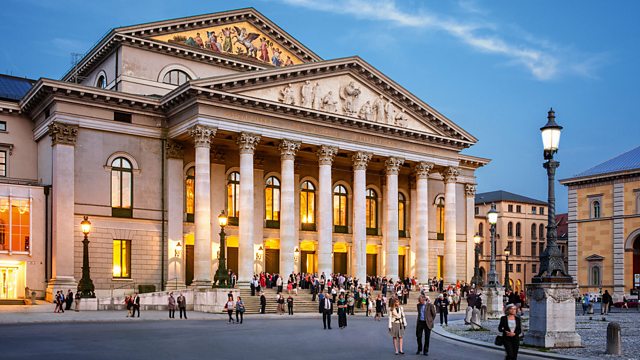 Verdi - Un ballo in maschera
Katie Derham presents a performance of Verdi's Un ballo in maschera given at the Bavarian State Opera. With Piotr Beczala, George Petean and Anja Harteros.
Katie Derham presents today's Thursday Opera Matinee - Verdi's Masked Ball from the Bavarian State Opera. Starring Piotr Beczala, George Petean and Anja Harteros, with Zubin Mehta conducting the Bavarian State Opera Orchestra and Chorus. Riccardo is in love with Amelia, the wife of his minister and best friend, Renato. When Renato discovers them meeting together, he decides to join a conspiracy to kill his master.
2pm
Verdi: Ballo in Maschera - opera in 3 acts
Riccardo ..... Piotr Beczala (tenor)
Renato ..... George Petean (baritone)
Amelia ..... Anja Harteros (soprano)
Ulrica ..... Okka von der Damerau (mezzo)
Oscar ..... Sofia Fomina (soprano)
Silvano ..... Andrea Borghini (baritone)
Samuel ..... Anatoly Sivko (bass)
Tom ..... Scott Conner (bass)
Chief Judge ..... Ulrich Ress (tenor)
Amelia's servant ..... Joshua Owen Mills (tenor)
Bavarian State Opera Chorus
Bavarian State Opera Orchestra
conductor Zubin Mehta.
Synopsis
First act 

A room at Riccardo's house 

While the governor Riccardo is asleep, he is being expected by numerous petitioners wishing him peace and quiet and assuring him of their loyalty. Samuel, Tom and their followers who have conspired against Riccardo and are seeking revenge secretly mingle amongst the crowd. Riccardo promises to be responsive to all the justified pleas but his attention is quickly distracted by the guest list of his upcoming ball. He notices the name of Amelia on that list. The mere thought of seeing her again makes him dream. His friend and most trusted advisor Renato, who is also Amelia's husband, is unaware of these thoughts. Renato warns Riccardo of a threatening attack and reminds him of his duties. Riccardo is not willing to be protected and therefore ignores the threat. The highest judge wants to banish the fortuneteller Ulrica. Oscar, Riccardo's page, defends Ulrica and emphasizes how all her prophecies have turned out to be true. Deciding to see for himself, Riccardo persuades everyone to pay Ulrica a visit in disguise at exactly three o'clock. 

At the hut of the fortuneteller 

Ulrica invokes prophetic spirits from whom nothing can be hidden. Riccardo – disguised as a fisherman –manages to mingle amongst the visitors at Ulrica's without being noticed. Ulrica promises a soldier named Silvano that he will soon become wealthy and receive a promotion. Riccardo makes the fortune of Silvano come true by slipping money and a note into his pocket. As Ulrica sends all her visitors away to admit Amelia, Riccardo secretly stays to eavesdrop on their conversation. Amelia begs for help as she is being tormented by her adulterous feelings for another man. She wishes to have a peaceful heart. Ulrica explains that the only way of finding peace, is by gathering by the gallows at midnight. Riccardo decides to follow Amelia. As the followers of Riccardo, including the judge and Oscar, but also Samuel and Tom arrive at Ulrica's place, Riccardo continues to play his role as a fisherman. He asks Ulrica to have his fortune told. She sees a powerful person in him by reading his palm. She predicts his soon-to-be and violent death by the hand of a friend. It will be the next person who shakes his hand. Riccardo appears unimpressed and makes fun of Ulrica's prediction. He offers his hand to all those present, but nobody dares to take it. At this moment Renato arrives unaware of the prophecy and clasps Riccardo's hand in greeting, thereby revealing the governor's identity. Riccardo thinks himself safe because Renato is his closest friend. He is hailed by his followers. 

Second act 

A lonesome field in the surroundings of Boston 

Amelia arrives at the gallows. Although she is intimidated by the scary landscape, she is determined to find the remedy which Ulrica had told her about, even if this means killing off all her feelings. Riccardo who had followed her makes her confess her love to him. In exuberance Riccardo suppresses his friendship to Renato. Amelia on the other hand is torn between obligation and desire and wants to die. Unexpectedly Renato appears to warn the governor of the conspirators, who are secretly following Riccardo. Amelia covers herself with a veil before her husband can catch sight of her. Renato and Riccardo exchange their coats so the governor is able to remain unrecognized. Riccardo fleas, making Renato promise to take the veiled woman safely back to town and not asking her identity. Renato and Amelia fall into the hands of the conspirators, who are surprised to see Renato instead of Riccardo. They want to know who the veiled woman is. Renato takes up arms in order to protect her. Amelia interferes by dropping her veil. Renato has to face the fact that his friend's secret lover is nobody else than his own wife Amelia. He is exposed to ridicule. He asks Samuel and Tom to meet him the very next day. 

Third act 

Study at Renato's house 

Renato is in disbelief of the protestations of innocence of his wife and is determined to kill her. She asks to see their son before she dies. He grants her wish. After Amelia leaves, he comes to the conclusion that it is Riccardo who should be punished with death and not his wife. He lets Samuel and Tom know that he will join the conspirators. The pledge for his honesty shall be his own son. They decide to draw lots to determine who will kill Riccardo. Renato forces Amelia to choose from the slips of paper. His own name comes up. Oscar brings the invitation to the masked ball. Renato deems this celebration to be suitable for the attack and agrees on a sign with Samuel and Tom. Amelia suspects what the three men are plotting and intends to warn Riccardo. 

A cabinet at Riccardo's house 

Riccardo believes Amelia is safe. He decides to renounce his love to Amelia and to send Renato and his family into another country. Oscar hands him over an anonymous letter in which Riccardo is warned about an attack on the very same evening. Riccardo does not want to be called a coward and plans to attend the ball anyway. There, he wants to say goodbye to Amelia forever. 

A ballroom 

At the ball Renato learns from Oscar what costume Riccardo is wearing. Amelia recognizes him in his disguise and warns him again. Riccardo still ignores the warning. He explains his decision and bids her a last farewell. At the very same moment Renato fires a shot at Riccardo. With his last breath Riccardo assures his friend Renato that Amelia is innocent as she never broke her marriages vows, and forgives everyone.