Main content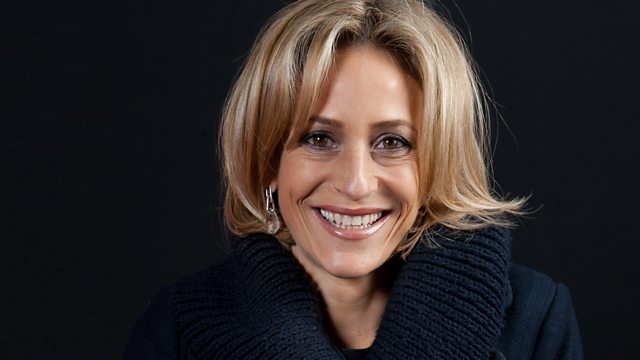 Let Her Speak
Emily Maitlis considers the history of women and public speaking, through their speeches, acting and public debate. With Fiona Shaw, Patsy Rodenburg and Professor Emma Smith.
With Hillary Clinton in the last throes of the American presidential campaign and literally thousands of speeches, Emily Maitlis considers how women have been and are making themselves heard in public; commandeering the ancient art of rhetoric, for millennia the business of men.
As Mary Beard tell us, women were banned from speaking in Ancient times: In Homer's Odyssey, Odysseus's wife Penelope, was contributing usefully to public discussion in her husband's absence until her "wet behind the ears" son, Telemachus, tells her to stop immediately. "Speaking is the business of men," he declares. With Fiona Shaw, Patsy Rodenburg and Professor Emma Smith, we'll hear how women are characterised by the ancient Greeks and by Shakespeare and what it is to 'inhabit' these voices.
Excluded from the theatre in Britain, women were heard in more eerie circumstances; uttering, wailing and pronouncing at the gallows, the one place where everyone was free to have a last word.
Ruling with God's will, Elizabeth I was a brilliant orator who made one of the most frequently quoted women's speeches on the back of a rhetorical denial of her femininity: "...I know I have but the body of a weak and feeble woman; but I have the heart of a king, and of a king of England, too..."
Emily asks Lissa Muscatine, Hillary Clinton's Chief of Speechwriting for more than twenty years, if the first female presidential candidate needs to address her femininity head on. With speechwriter Martha Leyton, we test Aristotle's rhetorical principles, logos, pathos and ethos.
We'll explore how the female voice is heard and how it is perceived and why women feel they have to adapt their voice to sound 'correct'. Do we actually know what a woman's public speaking voice is? Can women speak without criticism of being "shrill"? Can they speak effectively without being considered not feminine; more an androgyne like Hortensia?
We learn about the vocal folds, the importance of free breath and the constraints of being corseted or wearing high heels.
And we'll imagine Margaret Fell, the early Quaker who wrote Womens Speaking Justified, along with the exhortations of Mary Astell. We'll hear early recordings of the arguing and entreating, persuading and encouraging voices of women through the twentieth century, around the world, increasingly heard.
Contributors also include Professors Richard Toye, Valerie Hazan, Ruth Perry and Michael Graves.
Produced by Kate Bland. A Cast Iron Radio production for BBC Radio 3.
Last on
Broadcast