Main content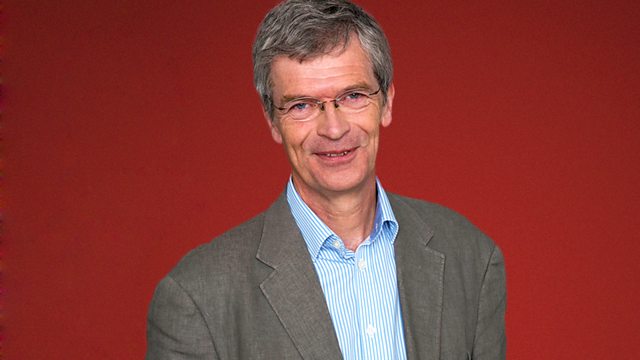 05/11/2016
Alyn Shipton's selection of requests includes a track from an album that a listener has lost or can no longer play. With a saxophone solo by Ellingtonian alto player Johnny Hodges.
Alyn Shipton plays listeners' requests in all styles of jazz and also includes this week's track from an album that a listener has lost or can no longer play, which is a sumptuous saxophone solo by Ellingtonian altoist Johnny Hodges. There is also a tribute to saxophonist Bobby Wellins who died last week.
Performers:
Artist  Django Reinhardt / Stephane Grappelli
Title  Twelfth Year
Composer Reinhardt
Album  Complete String Quintet
Label  Label Quest
Number 304131-2 CD 6 Track 4
Duration  2.37
Performers: Stephane Grappelli, vn; Django Reinhardt, g; Joseph Reinhardt, Pierre Ferré, rhythm g; Emmanuel Soudieux, b. 22 March 1939.
Artist  Johnny Hodges and His Orchestra
Title  Finesse (Night Wind)
Composer Taylor
Album  Blue Light
Label  Columbia
Number CL 663 Track ?
Duration  2.39
Performers:  Johnny Hodges, as; Duke Ellington, p; Billy Taylor, b; Sonny Greer, d. 21 March 1939.
Artist  Neva Raphaello and the Dutch Swing College Band
Title  Dr Jazz
Composer Morton
Album  Neva Raphaello with the Dutch Swing College Band
Label  Philips
Number 422 059 S1 T 1
Duration  2.22
Performers: Neva Raphaello, voc; Wybe Buyma, t; Wim Koistee, tb; Peter Schilperoort, Dim Kesber, cl; Arie Ligthart, bj; Joop Schrier, p; Bob Van Oven, b; Andre Westerndoorp, d. 1953.
Artist  Ken Colyer
Title  Sing On
Composer trad
Album  Recently Discovered Late Vintage Colyer
Label  Upbeat
Number URCD 271 Track 7
Duration  8.45
Performers: Ken Colyer, c; Mike Pointon, tb; George Berry, ts; Ray Foxley, p; John Griffith, bj; Alyn Shipton, b; Colin Bowden, d. Dec 1986.
Artist  Sharkey Bonano
Title  I'm Goin' Home
Composer Mares
Album  Sharkey and His Dukes of Dixieland
Label  Jasmine
Number 669 CD 1 Track 27
Duration  2.52
Performers: Sharkey Bonano, t, v; Jack Delaney, tb; Bujie Centobie, cl; Stanley Mendelson, p; Arnold Locayano b; Abbie Brunies, d. c 1952
Artist  Earl Hines
Title  Tosca's Dance
Composer Hines
Album  Fatha's Blues
Label  Tradition
Number 1028 Track 6
Duration  3.19
Performers: Earl Hines, p, 7 March 1964.
Artist  Lil Green
Title  Why Don't You Do Right
Composer McCoy
Album  n/a
Label  Bluebird
Number 8714 Side A
Duration  3.00
Performers: Lil Green, v; Simeon Henry, p; Big Bill Broonzy, g; Ransome Knolling, b. 23 April 1943
Artist  Spike Robinson
Title  This Love of Mine
Composer Sinatra
Album  A Real Corker
Label  Capri
Number 74043-2 Track 1
Duration  7.16  watch out for the really loud tenor entry at 1.15
Performers:  Spike Robinson, ts; Louis Stewart, g; Red Mitchell, b; Martin Drew, d. 1991
Artist  Lambert, Hendricks and Ross
Title  Moanin'
Composer Timmons / Hendricks
Album  n/a
Label  Columbia
Number 4-41468 Side A
Duration  2.35
Performers: Lambert. Hendricks, Ross, voc, unidentified accompaniment.
Artist          Stan Tracey
Title           Cockle Row
Composer        Tracey
Album           Under Milk Wood
Label            Jazzizit
Number          9815 Track 1
Duration         6.50
Performers: Bobby Wellins, ts; Stan Tracey, p; Jeff Clyne, b; Jackie Dougan, d. 8 May 1965
Artist  Cleo Laine
Title  You Must Believe In Spring
Composer Legrand
Album  Live at Carnegie Hall
Label  
Number 
Duration  3.31
Performers: Cleo Laine, v; piano.
Artist  Ted Heath
Title  MOve
Composer Denzil Best
Album  Ted Heath and His Music: Vol 4 1948-50
Label  Hep 
Number Track 16
Duration  2.37
Performers: Bobby Pratt, Stan Roderick, Stan Reynolds, Ronnie Hughes (tp), Jackie Armstrong, Maurice Pratt, Jack Bentley, Jimmy Coombes (tb), Les Gilbert, Reg Owen (as), Tommy Whittle, Henry Mackenzie (ts), Dave Shand (bs), Dave Simpson (p), Jack Seymour (b), Jack Parnell (d). Oct/Nov 1949.
Artist  Count Basie
Title  Every Day I Have The Blues
Composer Chatman
Album  One O'Clock Jump
Label  Fresh Sound
Number CD 617 Track 13
Duration  5.11
Performers: Ella Fitzgerald, v; Joe Williams, v; Wendell Culley, Reunald Jones, Thad Jones, Joe Newman, t; Henry Coker, Bill Hughes, Benny Powell, tb; Marshall Royal, Bill Graham, Frank Foster, Frank Wess, Charlie Fowlkes, reeds; Count Basie, p; Freddie Green, g; Eddie Jones, b; Sonny Payne, d. 1956.