Main content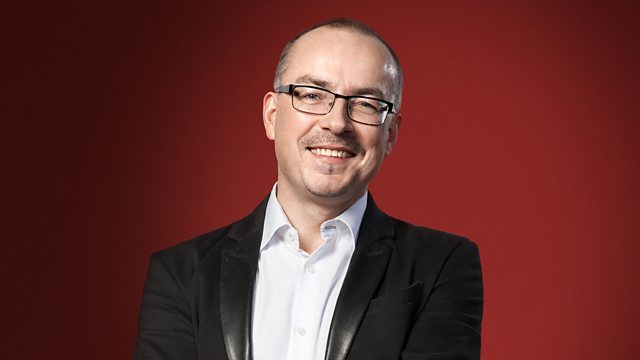 Building a Library: Stravinsky's The Rake's Progress
With Andrew McGregor. Including Building a Library: Stravinsky's The Rake's Progress; Mozart 225: A 200-disc box set of all Mozart's completed works; Disc of the Week.
with Andrew McGregor
0930
Building a Library: Stravinsky 'The Rake's Progress'. Anna Picard compares recordings on both CD and DVD of Stravinsky's operatic morality tale following the fate of Tom Rakewell as he abandons poor Anne Trulove for the delights of London in the company of the nefarious Nick Shadow.
1030
Mozart 225 - an exhaustive new compilation offering 200 discs with all Mozart's completed works, a new Köchel catalogue, a brand new biography, and previously unrecorded fragments offering a glimpse of how Mozart actually went about the process of composing. Andrew chats to Professor Cliff Eisen about the curation of the box, and Sir Nicholas Kenyon picks a few choice samples to give us a flavour of the performances.
1145
Andrew chooses an outstanding new release as his Disc of the Week.
9.00am
Dove: For An Unknown SoldierDOVE: For An Unknown Soldier; An Airmail Letter from MozartNicky Spence (tenor), Melvyn Tan (piano), Oxford Bach Choir, Portsmouth Grammar School Chamber Choir, Children's Choir: The Minster Junior School Monks Orchard Primary School, Ecclesbourne Primary School, London Mozart Players, Nicholas Cleobury (conductor)SIGNUM SIGCD452 (CD)
Monteverdi: 17 Peccati CapitaliArias and excerpts from L'Incoronazione di Poppea, Ariose Vaghezze, Il Ritorno d'Ulisse in patria, VIII Libro dei Madrigali, Selva Morale e spirituale, L'Orfeo, III Libro bei Madrigali. Cappella Mediterranea, Leonardo Garcia Alarcon (conductor)ALPHA ALPHA249 (CD)
JS Bach & Telemann: Sacred Cantatas BACH, J S: Cantata BWV170 'Vergnugte Ruh, beliebte Seelenlust'; Cantata BWV82 'Ich habe genug'TELEMANN: Der am Olberg zagende Jesus TVWV 1:364; Jesus liegt in letzten Zuegen TVWV 1:983Philippe Jaroussky (countertenor), Freiburger BarockorchesterERATO 2564649159 (CD + DVD)

9.30am – Building a Library
Anna Picard compares recordings of Stravinsky's opera The Rake's Progress and recommends a version.
Building a Library: Stravinsky's The Rake's Progress
Top recommendation:
STRAVINSKY: The Rake's ProgressPhilip Langridge (Tom Rakewell), Cathryn Pope (Anne), Samuel Ramey (Nick Shadow), Sarah Walker (Baba the Turk), Astrid Varnay (Mother Goose), Stafford Dean (Father Trulove), John Dobson (Sellem), Matthew Best (Keeper of the Madhouse), London Sinfonietta Chorus, London Sinfonietta, Riccardo Chailly (conductor)DECCA 4757005 

Other recordings:Below is a shortlist of other recordings which Anna Picard also liked, although we can't guarantee the availability of these discs. 
STRAVINSKY: The Rake's ProgressJerry Hadley (Tom Rakewell), Dawn Upshaw (Anne Trulove), Samuel Ramey (Nick Shadow), Gracy Bumbry (Baba the Turk), Anne Collins (Mother Goose), Robert Lloyd  (Father Trulove), Steven Cole (Sellem), Roderick Earle (Keeper of the Madhouse), Chœur de l'Opéra de Lyon, Orchestre de l'Opéra de Lyon, Kent Nagano (conductor)ERATO 0630-12715-2
STRAVINSKY: The Rake's ProgressIan Bostridge (Tom Rakewell), Deborah York (Anne Trulove), Bryn Terfel (Nick Shadow), Anne Sofie von Otter (Baba the Turk), Anne Howells (Mother Goose), Martin Robson (Father Trulove), Peter Bronder (Sellem), Julian Clarkson (Keeper of the Madhouse), Monteverdi Choir, London Symphony Orchestra, John Eliot Gardiner (conductor)DG 4596482

10.25am
Mozart: Complete Violin ConcertosMOZART: Violin Concertos Nos. 1-5 (Complete); Rondo for Violin and Orchestra in B flat, K269; Rondo for Violin and Orchestra in C, K373; Adagio for Violin and Orchestra in E, K261Isabelle Faust (violin), Il Giardino Armonico, Giovanni Antonini (conductor)HARMONIA MUNDI HMC902230/31 (2CD)
Mozart: Violin Sonatas Volume 2MOZART: Violin Sonata No. 24 in F major, K376; Violin Sonata No. 10 in B flat major, K15; Violin Sonata No. 29 in A major, K402; Violin Sonata No. 1 in C Major, K6; Violin Sonata No. 14 in D major, K29; Violin Sonata No. 4 in G major, K9; Violin Sonata No. 2 in D major, K7; Violin Sonata No. 22 in A major, K305Cedric Tiberghien (piano), Alina Ibragimova (violin)HYPERION CDA68092 (2CD)
Mozart: Complete Piano SonatasMOZART: Piano Sonatas 1-18 (complete); Fantasia in C minor, K475Fazil Say (piano)WARNER CLASSICS 2564694206 (6CD)
MOZART: Zaide, K344Sophie Bevan (Zaide), Allan Clayton (Gomatz), Stuart Jackson (Soliman), Jacques Imbrailo (Allazim), Darren Jeffery (Osmin), Jonathan McGovern (Vorsanger), Classical Opera, Ian PageSIGNUM SIGCD473 (CD)

10.40am – Nick Kenyon and Professor Cliff Eisen on Mozart225
Mozart 225 is an exhaustive new compilation offering 200 discs with all Mozart's completed works, a new Köchel catalogue, a brand new biography, and previously unrecorded fragments offering a glimpse of how Mozart actually went about the process of composing. Andrew chats to Professor Cliff Eisen about the curation of the box, and Sir Nicholas Kenyon picks some choice samples to give us a flavour of the performances
Mozart 225: The New Complete EditionDECCA 4830000 (200CD)
http://www.mozart225.com/
11.45am – Disc of the Week
MOZART: Don Giovanni, K527Dimitris Tiliakos (Don Giovanni), Vito Priante (Leporello), Myrto Papatanasiu (Donna Anna), Kenneth Tarver (Don Ottavio), Karina Gauvin (Donna Elvira), Guido Loconsolo (Masetto), Christina Gansch (Zerlina), Mika Kares (Il Commendatore), MusicAeterna, MusicAeterna Choir, Teodor Currentzis (conductor)SONY 88985316032