Main content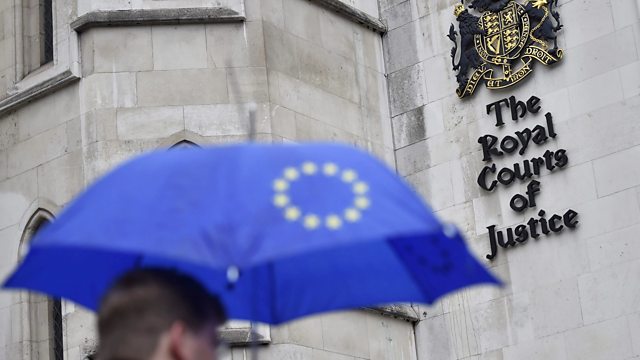 Brexit in the High Court
What are the legal ramifications of the High Court ruling on the Brexit legal challenge? Joshua Rozenberg and guests explore this latest chapter in Britain's exit from the EU.
The High Court has decided that Prime Minister Theresa May cannot trigger Brexit without an Act of Parliament - but what are the legal ramifications of this ruling?
This week, Joshua Rozenberg explores this latest chapter in Britain's exit from the EU - the fallout from which has seen highly personal attacks on England's most senior judges, as the ideological divisions seen in the run up to the referendum vote were exposed once more.
Following our previous edition of Law in Action, which aired straight after the referendum vote, the programme has gone back to the same leading legal minds to seek some clarity amid the conflicting and confusing media coverage.
Has the high court's decision really stalled Brexit as leave voters fear - and some remainers hope? Just how will the so-called 'Great Repeal Bill' work in practice? And will the UK still have to comply with EU laws if it wants to continue to trade with the continent?
CONTRIBUTORS
Prof Catherine Barnard, Professor of European Law at the University of Cambridge
Prof Mark Elliott, Professor of Public Law at University of Cambridge
Producers: Matt Bardo & Richard Fenton-Smith.
Last on
Remainers and Brexiteers reveal the thinking that shaped their EU referendum campaigns.

Edward Stourton asks if the island of Ireland is where Brexit will matter most.

Leave voters in Wakefield tell David Aaronovitch why they want to quit the EU.

More than 16m people voted Remain. How do they feel now that they have lost?
Broadcasts