Main content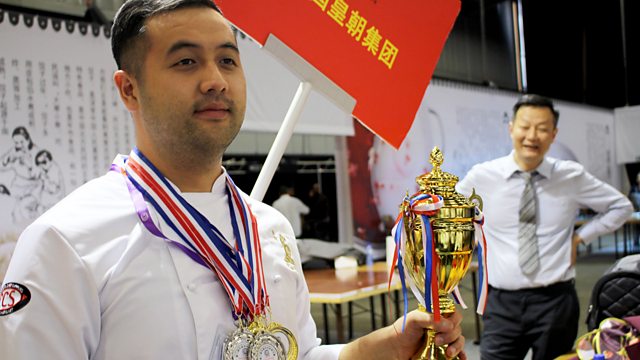 Gavin and the Chinese Food Olympics
For the first time, the UK is represented at the prestigious World Championship for Chinese Cuisine, and Gavin Chun and his team are going for gold. Presented by Sheila Dillon.
Every four years, the most established names in Chinese cuisine pitch their skills against each other in an international competition which has become known as the Olympics of Chinese food. This year the World Championship for Chinese Cuisine was held in Europe for the first time in Rotterdam in the Netherlands. Teams of chefs descend on the competition from around the world and compete for highly prized gold, silver and bronze medals. The pressure and the standard are high.
In 2016, another first. The first UK based team are travelling to Rotterdam to take on the champions. Among them is 25 year old sous chef Gavin Chun. Gavin and his team are going for gold.
Presented by Sheila Dillon
Produced by Clare Salisbury.
Soy Sauce Chicken...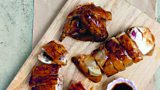 Try Kei Lum Chan's favourite Chinese recipe, soy sauce chicken
REGION: HONG KONG
PREPARATION TIME: 10 MINUTES, PLUS
1. HOURS DRYING TIME
COOKING TIME: 1 HOUR
SERVES: 4
INGREDIENTS
1 (3¼-LB/ 1.5-KG) WHOLE CHICKEN
1 TABLESPOON DARK SOY SAUCE
2 CUPS (16 FL OZ/475 ML)
VEGETABLE OIL
½ CUP (4 FL OZ/ 120 ML) LIGHT SOY
SAUCE
4 OZ/ 120 G ROCK SUGAR
2 STAR ANISE
¾ OZ/20 G GINGER (ABOUT 1-INCH/
2.5-CM-LENGTH PIECE), SLICED
STEAMED RICE (PAGE 540), TO SERVE
METHOD
Air-dry the chicken in the refrigerator for 30 minutes. Rub the dark soy sauce all over the chicken and air-dry for another hour.
Heat the oil in a wok or large saucepan to 300°F/150°C, or until a cube of bread browns in 1½ minutes. Carefully add the chicken and use a slotted spoon to gently roll it in the hot oil for 3–4 minutes until the skin is golden. Carefully remove the chicken from the oil and drain in a colander.
Pour out most of the oil, leaving about 2 tablespoons in the wok. Add the light soy sauce, rock sugar, star anise, ginger, and 3 cups (25 fl oz/750 ml) water. Bring to a boil over high heat, reduce to low heat, and simmer. Put the chicken, side down, into the wok and cook for 18 minutes, basting with the sauce as it cooks. Turn the chicken over, cook for another 18 minutes, and baste occasionally. Turn chicken again with the breast facing down and cook for another 5 minutes, or until cooked through.
Carefully transfer the chicken to a colander to drain and set aside to cool. Cut into pieces.
Heat the sauce in the wok over high heat and boil for 3–4 minutes until reduced to ½ cup (4 fl oz/120 ml).
Pour the sauce over the chicken, then serve with rice.
China: The Cookbook by Kei Lum & Diora Fong Chan is published by Phaidon.
Credits
| Role | Contributor |
| --- | --- |
| Presenter | Sheila Dillon |
| Producer | Clare Salisbury |