Main content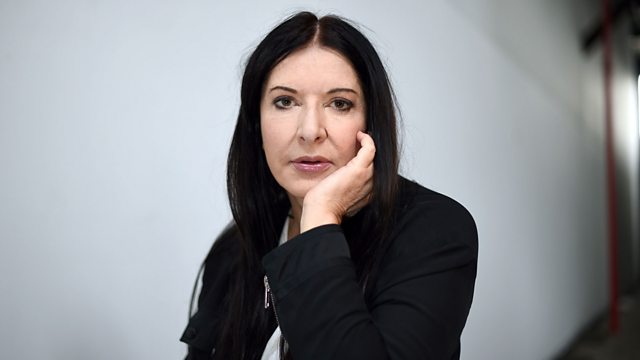 Weekend Woman's Hour: Marina Abramovic, War Widows, Dakota Fanning
Highlights from the Woman's Hour week, featuring Marina Abramovic, the 'grande dame' of radical performance art. Plus war widows, and Dakota Fanning on American Pastoral.
Marina Abramovic, the 'grande dame' of radical performance art, on her life and her art...and not leaving home till she was 29 years old.
What is it like to be a war widow in Britain? Dr Nadine Muller Lecturer in English Literature and Cultural History at Liverpool John Moores University and Mary Moreland from the War Widows Association discuss a new project collecting the stories of the wives and families left behind.
We discuss the US election result and what it may mean to women in the US and around the world with Cynthia Weber Professor of International relations at Sussex University, Diana Furchgott-Roth a member of Women for Trump, the Guardian journalist Zoe Williams and Kimberlé Crenshaw Professor of Law from Columbia University.
We hear from two nominees of the WISE awards which celebrates the women leading the way in science, technology, maths and engineering. Linda Miller is the Project Manager of Crossrail's Farringdon Station and Clare Elwell is a Professor of Medical Physics at University College London.
The English folk singer Shirley Collins tells us what it's been like to find her voice 38 years after losing it in the 80's to heartbreak.
Woman's Hour Powerlist judges discuss how they'll pick the seven women who've made the biggest impact on women's lives over the past seven decades: Chair of the judges Emma Barnett, Sunday Times Columnist Ayesha Hazarika, former Labour advisor and commentator Julia Hobsbawm, Abi Morgan the award winning screenwriter and Jill Burridge the former editor of Woman's Hour.
Dakota Fanning on her latest role in the film American Pastoral, the big screen adaptation of Philip Roth's novel.
Credits
| Role | Contributor |
| --- | --- |
| Presenter | Jenni Murray |
| Producer | Rabeka Nurmahomed |
| Editor | Jane Thurlow |
| Interviewed Guest | Marina Abramovic |
| Interviewed Guest | Shirley Collins |
| Interviewed Guest | Dakota Fanning |
| Interviewed Guest | Nadine Muller |
| Interviewed Guest | Cynthia Weber |
| Interviewed Guest | Diana Furchtgott-Roth |
| Interviewed Guest | Zoe Williams |
| Interviewed Guest | Kimberle Crenshaw |
| Interviewed Guest | Clare Elwell |
| Interviewed Guest | Linda Miller |
| Interviewed Guest | Emma Barnett |
| Interviewed Guest | Ayesha Hazarika |
| Interviewed Guest | Julia Hobsbawm |
| Interviewed Guest | Abi Morgan |
| Interviewed Guest | Jill Burridge |