Main content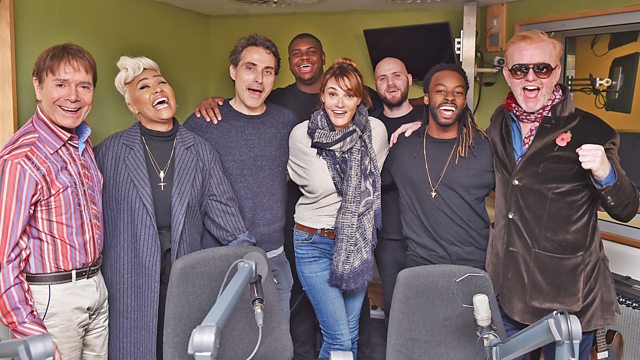 Sir Cliff Richard, Rufus Sewell, Sarah Parish & Emeli Sande
Chris has breakfast with Sir Cliff Richard, actors Rufus Sewell and Sarah Parish plus Emeli Sande performs live in the studio and tells us about her new album Long Live the Angels.
Chris has breakfast with Sir Cliff Richard who returns with his 102nd album Just... Fabulous Rock 'n' Roll and gives us an impromptu performance of Elvis' Blue Suede Shoes. Actor Rufus Sewell tells us about treading the boards in his new Parisian play Art. Actress Sarah Parish shares the supermarket secrets behind the sixth series of Trollied. The incredible Emeli Sande serenades the guests playing music from her new album Long Live Angels plus a cover of Bob Marley's Is This Love. Bishop Nick Baines has the final Pause For Thought for the week.
Clips

Pause for Thought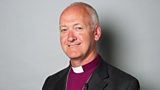 From Nick Baines, the Bishop of Leeds:
Well, it's not been a boring week on the news front, has it? And it's not bad that it will end with us looking to remember the reality of human life: often fragile, conflicted and uncertain. On Sunday I'll be standing in the rain - it usually rains - in Leeds as we stand in silence and bring to memory those who have lost their lives in conflict. No sentimentalism, no romanticising war, no escapism into a glorious past - just silent reflection in the face of enormous loss.
But, did you know that Sunday also has another designation? I have no idea who decides on these things, but apparently it is World Kindness Day. Really.
Now, I realise this might sound a bit out of place, given the lack of kindness that has characterised political debate and filled our headlines recently; but, don't mock it too quickly.
I reckon kindness is one of the most underrated virtues in today's world. It isn't bland or soft or feeble or weak. It isn't about namby-pambyism or avoidance of conflict. Kindness comes when, even where it isn't deserved, we dare to offer an opening to humanity and mercy, regardless of cost or reward. It is more than being nice and it can be very demanding in certain circumstances. If you want a different definition: kindness is what you usually don't see on social media when people you don't know have a big axe of aggression to grind.
Can you imagine what a kinder world would look like? Less suspicion and more openness? More generosity and less selfishness? Try it. It should come as no surprise that one New Testament writer included kindness among other hard-to-do virtues (he called them "fruits of the Spirit") such as love, joy, peace, patience, generosity and faithfulness. None of them easy; all of them costly.
Maybe these fruits should form the pillars of the earth on which we build our lives. In the words of one of Cliff's old songs, they might also help us to travel light in a burdened world, and open space for hope to people who worry that it is all closing down on them.
Remember kindness.