Main content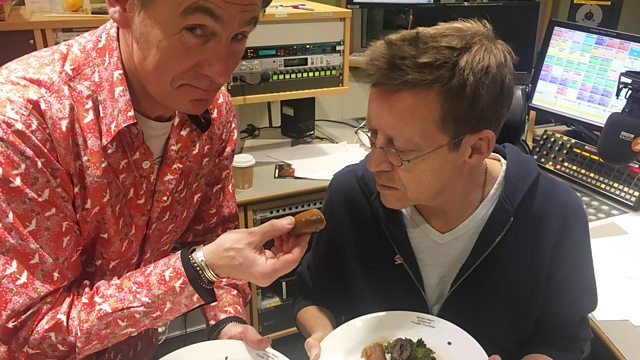 Spicy sausage and lentil bake, kale and pickled walnuts
Resident chef Nigel Barden cooks up spicy sausage and lentil bake with kale and pickled walnut for 'Foodie Thursday' plus Jim Kerr chats ahead of Simple Minds' Radio 2 In Concert.
Last on

Spicy Sausage and Lentil Bake, Kale and Pickled Walnuts
by Dan Doherty from Toast, Hash, Roast, Mash (Mitchell Beazley)
One-pot wonders are the way forward – less washing up and all that love kept in one place.  Pickled walnuts are one of my go-to ingredients – they add a great tang to so many dishes and are readily available in most supermarkets.
Serves 2 
Prep time 10 mins
Cooking time 15-20 mins
Ingredients
Olive oil
4 chorizo sausages
(Nigel used cooking chorizo sausages)
½ onion, finely sliced 1 garlic clove, finely sliced 1 small carrot, finely diced 2 bay leaves sea salt flakes and freshly ground black pepper 100g (3½ oz) Puy lentils, soaked overnight in cold water 300ml (½ pint) chicken stock 100g (3½ oz) kale 4 pickled walnuts
Method
1.    Heat a splash of olive oil in a casserole over a medium heat, add the chorizo and sear on all sides.  Set aside on a plate for later.
2.    Add the onion, garlic, carrots and bay leaves to the casserole and cook for 5-6 mins, taking care not to let them colour.  Season with salt and pepper. 
3.   
Add the lentils, give them a stir, then add the stock and bring to the boil.
4.   
Add the chorizo sausage, then reduce the heat and simmer for 10-15 mins, or until the lentils are cooked and stew-like.
5.   
While the lentils are cooking, roughly chop the kale to cut it into smaller pieces. 
6.   
Slice the pickled walnuts 5mm (¼ inch) thick. 
7.   
When the lentils are cooked, add the kale to the casserole and stir over a low heat for 2-3 mins until the kale is cooked.
8.   
Scatter over the pickled walnuts, then put the casserole in the middle of the table and dive in.
Broadcast