Main content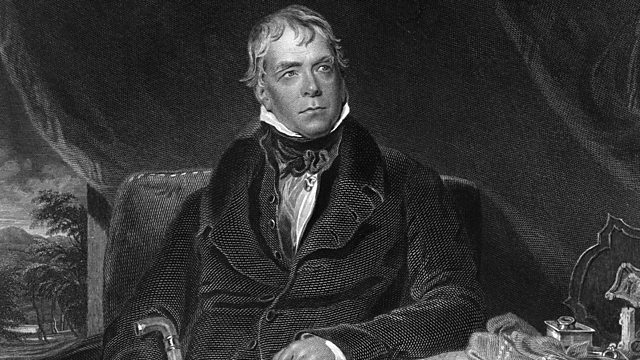 Landmark: Waverley
A special programme exploring Walter Scott's novel Waverley, as Rana Mitter reflects on the writer and the books which helped the British like the idea of Britain.
Today perhaps, Brand Britain is showing its age, but once upon a time it was nothing less than one of the most dynamic political projects in the world. In a Free Thinking Landmark on Walter Scott's Waverley, Rana Mitter reflects on the writer and the books which helped the British like the idea of Britain.
Joining Rana in discussion: the writer, Jenni Calder who has recently adapted 'Waverley' for a modern audience; the poet and literary historian, Robert Crawford, who is interested in the originality and reception of Scott's writing and its affect on the imagination; and Andrew Lincoln, an English literature scholar, who has explored Scott as a forward-looking thinker, one who evoked patriotism in the Unionist cause.
You can find more programmes in the BBC #LoveToRead campaign http://www.bbc.co.uk/programmes/p04b5zz8/members
And hear more over the #LovetoRead weekend 5-6 November.
As an acclaimed romantic poet, beloved of Byron, then a best-selling novelist, envied by Jane Austen, Sir Walter Scott wrote into existence many of the myths and legends we still re-tell and he used this past to examine and explore the political problems of his own day. Waverley' appeared in 1814 when the Napoleonic Wars had not yet drawn to a close -- and the events the novel describes, the 1745, (when Charles Edward Stuart and his army rocked the stability of a still youthful Anglo-Scottish political Union) were as close in time as the Second World War now is to us. In 'Waverley', 'Rob Roy', 'Red Gauntlet' and 'Ivanhoe', Scott conjured up heroic pasts - not just for Scotland, but for England too - romantic highlanders like Rob Roy on the one hand, the anglo-saxon Robin of the Greenwood on the other. The Waverley novels instilled in their readers a great sense of national pride along with the belief that the two countries, now politically mature, their internal struggles behind them, really could and would be stronger together. In the by-going he conjured up a portrait of the British as an effortlessly multicultural people with deep roots who were now uniquely qualified to take on the world.
Presenter: Rana Mitter
Guests: Robert Crawford: University of St Andrews, 'Bannockburns: Scottish Independence and the Literary Imagination 1314-2014'
Jenni Calder: 'Sir Walter Scott's Waverley': Newly Adapted for the Modern Reader'
Andrew Lincoln: Queen Mary, University of London, 'Walter Scott and Modernity'
Producer: Jacqueline Smith.
Credits
| Role | Contributor |
| --- | --- |
| Presenter | Rana Mitter |
| Interviewed Guest | Jenni Calder |
| Interviewed Guest | Robert Crawford |
| Interviewed Guest | Andrew Lincoln |
| Producer | Jacqueline Smith |
Featured in...
A campaign celebrating the pleasures of reading.

Key films, books, TV, plays, art: 1001 Nights – 2001 A Space Odyssey, Jane Austen - Jaws