Main content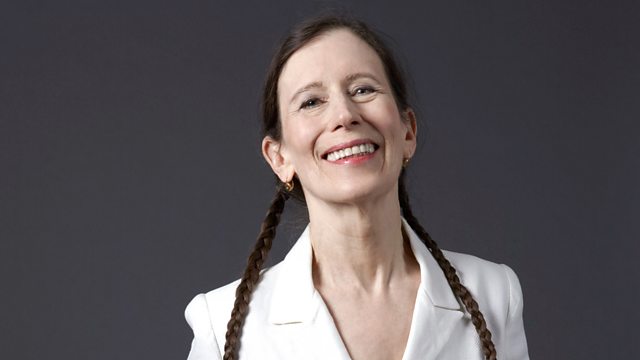 Meredith Monk describes to Donald Macleod her compositional process as well as writing music for, and directing, films.
Composing music is like jumping off a cliff says Meredith Monk, presented by Donald Macleod.
Meredith Monk has been described as one of America's coolest composers. She is also a singer, director, choreographer, filmmaker, and installation artist. Monk's singular voice has been the central component in the work she has created over a trajectory spanning more than fifty years. As a pioneer in extended vocal technique and a composer of vocal and instrumental music, she has developed distinct sound worlds that have been described as "a beguiling repertoire of aviary microtones, robust yodels, and dusky, low-range chanting" and also as "a peerless mixture of otherworldly and human." Her music is identifiable as distinctly Meredith Monk, and has historically provoked strong reactions from audiences and critics alike. Now in her seventies Monk still tours performing her own works, and it was in Cologne where Donald Macleod caught up with her for Composer of the Week, to discuss her remarkable life and unique music.
In conversation with Donald Macleod, composer Meredith Monk describes her compositional process as similar to jumping off a cliff, where she always tries to start with nothing, and encourages herself to take risks. Monk feels that composing is like being a detective where she is looking for a clue, and once found she then starts to work with it. In The Games, Monk has described this work as being like delving into the process of nature. Meredith Monk also discusses composing for, and directing film, including Ellis Island and Book of Days.
Ellis Island
Ursula Oppens, piano
Bruce Brubaker, piano
The Games (Panda Chant I)
Robert Een, voice
Andrea Goodman, voice,
Wayne Hankin, voice
Naaz Hosseini, voice
Meredith Monk, voice
The Games (Memory Song)
Andrea Goodman, voice,
Naaz Hosseini, voice and violin
Meredith Monk, voice
Wayne Hankin, keyboard
Nurit Tilles, keyboard
Do You Be
Meredith Monk, voice and piano
Book of Days (Travellers 4/Churchyard Entertainment)
Meredith Monk, voice
Andrea Goodman, voice
Robert Een, voice
Nicky Paraiso, voice
Naaz Hosseini voice
Ching Gonzalez, voice
Johanna Arnold, voice
Joan Barber, voice
John Eppler, voice
Timothy Sawyer, voice
Nurit Tilles, keyboard
Book of Days (Madwoman's Vision)
Meredith Monk, voice and keyboard
Robert Een, cello
Naaz Hosseini, voice and violin
Wayne Hankin, bass recorder
Acts from Under and Above (Scared Song)
Meredith Monk, voice and synthesizer
Nurit Tilles, piano
Songs of Ascension (Ascent)
Meredith Monk & Vocal Ensemble
Todd Reynolds Quartet
The M6
Montclair State University Singers
Heather J. Buchanan, conductor
Producer Luke Whitlock.