Main content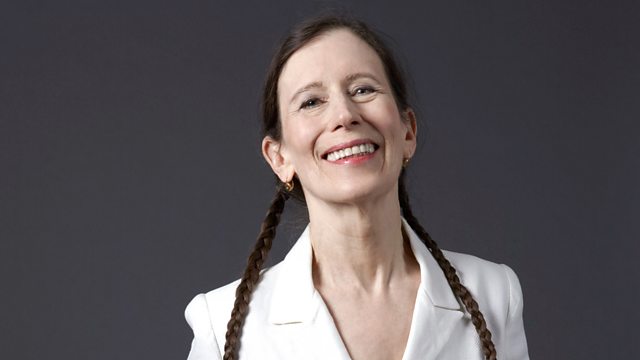 The magician of the voice
American composer Meredith Monk finds her unique voice. Presented by Donald Macleod.
American composer Meredith Monk finds her unique voice, presented by Donald Macleod.
Meredith Monk has been described as one of America's coolest composers. She is also a singer, director, choreographer, filmmaker, and installation artist. Monk's singular voice has been the central component in the work she has created over a trajectory spanning more than fifty years. As a pioneer in extended vocal technique and a composer of vocal and instrumental music, she has developed distinct sound worlds that have been described as "a beguiling repertoire of aviary microtones, robust yodels, and dusky, low-range chanting" and also as "a peerless mixture of otherworldly and human". Her music is identifiable as distinctly Meredith Monk, and has historically provoked strong reactions from audiences and critics alike. Now in her seventies Monk still tours performing her own works, and it was in Cologne where Donald Macleod caught up with her for Composer of the Week, to discuss her remarkable life and unique music.
Music and singing is in Meredith Monk's DNA. Her mother sang operetta, popular songs, and jingles for commercials. Her grandfather was an operatic bass who set up a conservatory in Harlem, and her great-grandfather was a cantor in a Moscow synagogue, and was invited to sing for the Tsar of Russia. In conversation with Donald Macleod Meredith Monk discusses her early influences from family, school and college, and how her career went on to develop in New York at a time, 1965, when she had a revelation about the possibilities of the human voice.
Book of Days (Fields/Clouds)
Johanna Arnold, voice
Joan Barber, voice
Andrea Goodman, voice
Naaz Hosseini voice
Meredith Monk, voice
Robert Een, voice
John Eppler, voice
Ching Gonzalez, voice
Wayne Hankin, voice
Nicky Paraiso, voice
Timothy Sawyer, voice
Nurit Tilles, keyboard
Book of Days (Jewish Storyteller/Dance/Dream)
Ching Gonzalez, voice
Nicky Paraiso, voice
Timothy Sawyer, voice
Robert Een, voice
John Eppler, voice
Joan Barber, voice
Andrea Goodman, voice
Naaz Hosseini voice
Johanna Arnold, voice
Meredith Monk, voice
Parlour Games
Ursula Oppens, piano
Bruce Brubaker, piano
Arr. Meredith Monk
Greensleeves
Meredith Monk, guitar and voice
Nota
Meredith Monk, guitar and voice
Candy Bullets and Moon
Meredith Monk, bass and voice
Don Preston, drums and organ
Porch
Meredith Monk, voice
Epic I
Meredith Monk, voice and organ
Atlas (Part I: Airport)
Wilbur Pauley (Airport attendant), voice
Meredith Monk (Alexandra), voice
Shi-Zheng Chen (Cheng Qing), voice
Robert Een (Erik Magnussen), voice
Allison Easter (guide) voice
Ching Gonzalez (guide), voice
Katie Geissinger (traveller), voice
Victoria Boomsma (traveller), voice
Opera Orchestra
Wayne Hankin, conductor
Producer Luke Whitlock