Main content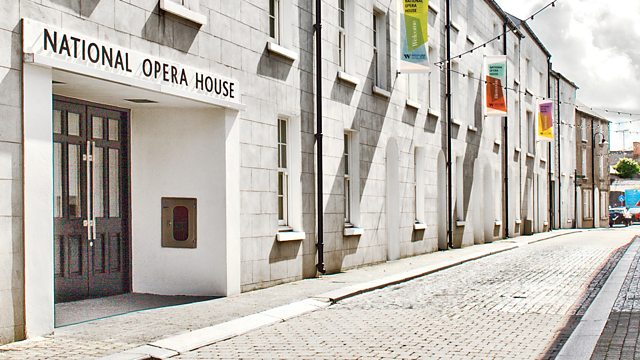 Felicien David's Herculanum
Live from Ireland's National Opera House, Sean Rafferty introduces a new production of Felicien David's Herculanum for Wexford Opera Festival 2016. Jean-Luc Tingaud conducts.
Live from Ireland's National Opera House, Sean Rafferty introduces Herculanum by Félicien David in a new production for Wexford Opera Festival 2016 by director Stephen Medcalf. Jean-Luc Tingaud conducts Wexford Festival Opera Chorus and Orchestra and a cast of soloists including soprano Olga Busuioc and tenor Andrew Haji as the young Christian couple Lilia and Helios, Daniela Pini (mezzo-soprano) as the evil pagan queen and bass Simon Bailey as her brother Nicanor.
The plot is set in 79 AD in Herculaneum, the ancient city neighbouring Pompeii just before the famous volcanic eruption of Mount Vesuvius which destroyed the cities. Félicien David's Herculanum puts the volcano and its eruption centre-stage: a potent symbol of sexual passion according to director Stephen Medcalf, but with very different intentions to those featured in Mozart's Così fan tutte, which also places Mount Vesuvius as a backdrop. David's puritanical Victorian perspective sees the rumbling as God's anger against the beauty-worshipping world of the pagan queen Olympia, her brother Nicanor and the hedonistic kingdom they rule - the volcano remains a clandestine sexual symbol but its overt presence is as the guardian of morality. The story pits the young Christian couple, Hélios and Lilia, against the evil Olympia. Olympia finds herself attracted to Hélios and so ignores the advice of her brother Nicanor to put the slave to death. Nicanor then attempts to seduce the slave Lilia but is struck dead when he tells her that her God does not exist ...
The 4-act grand opera with libretto by Joseph Méry and Térence Hadot was first performed in Théâtre Impérial de l'Opéra in Paris on 4th March 1859 and has only recently been revived from obscurity. In 1859, Herculanum was a success and was performed on the Opéra stage 74 times during the following nine years - in fact it was performed at the Opéra nearly as often as Gounod's Faust and more often than Mozart's Don Giovanni.
Lilia ..... Olga Busuioc (Soprano)
Olympia ..... Daniela Pini (Mezzo-soprano)
Hélios ..... Andrew Haji (Tenor)
Nicanor/Satan ..... Simon Bailey (Bass)
Magnus ..... Rory Musgrave (Baritone)
Wexford Festival Opera Chorus
Wexford Festival Opera Orchestra
Jean-Luc Tingaud (Conductor).
Synopsis
Act I
Kings and princes come to pay tribute to Olympia in her palace in Herculaneum. Two Christians Hélios and Lilia, are brought before her by a crowd clamouring for them to be put to death. Olympia's brother, the proconsul Nicanor, is in favour of their immediate execution, but Olympia is struck by the beauty of Hélios and she spares them. After sending Lilia away, she uses a magic potion to seduce Hélios. The earth quakes and a prophet, Magnus, warns of imminent doom.
Act II
Nicanor arrives looking for Lilia. On his orders, his guards disperse the Christians gathered there. Then, left alone with Lilia, Nicanor attempts to seduce her. He pretends to have converted to Christianity but she does not believe him and firmly resists his persistent attentions. In the end, in fury, he cries out: "Your God does not exist!" Thereupon, he is struck dead by lightning and Lilia faints. Satan appears and voices his hatred for humanity and his intention of causing pain and suffering. He decides to sow jealousy in Lilia's heart, and when she comes round, he shows her in a vision that Hélios has responded to Olympia's advances. Taking up Nicanor's cape, Satan disguises himself as the proconsul.
Act III
Hélios yields to Olympia in the beautiful palace gardens. But amidst the bacchanalia, Lilia appears to remind him of his vows. Olympia gives him a choice: either he accepts the throne, as her husband, or Lilia will die. Lilia sings an intense Credo. Satan, disguised as Nicanor, persuades Olympia to spare her life: she will make Lilia suffer more by making her witness Hélios's marriage to the queen. Torn between Olympia and Lilia, Hélios, in the end, realises his infamous behaviour towards the latter: he must at least save her life. He chooses Olympia: "Queen, I am yours! I love you, Olympia." Satan is jubilant.
Act IV
FIRST TABLEAU
The earth tremors grow more and more intense. Satan summons the slaves, who have taken advantage of the situation to escape. He encourages them to rise up against their masters and thus help him in his mission. The roar of thunder and the rumbling of underground activity grow louder while lightning streaks across the sky. Finally, a tremendous noise is heard as buildings begin to collapse.
SECOND TABLEAU
As the cataclysm intensifies and buildings collapse all around, Hélios appears on the terrace of Olympia's palace. Half crazed, he calls out Lilia's name. She comes to him and forgives him for his infidelity. The volcano erupts. Olympia arrives and Satan reveals his identity to her. The palace and the remaining buildings nearby collapse. The last refuge of the queen and the population is buried beneath successive surges of volcanic material. The Christians die happy in the belief that they are saved. Finally, the air clears to reveal a scene of desolation, with Vesuvius in the background still belching forth smoke and fire.
Synopsis courtesy of Palazzetto Bru Zane