Main content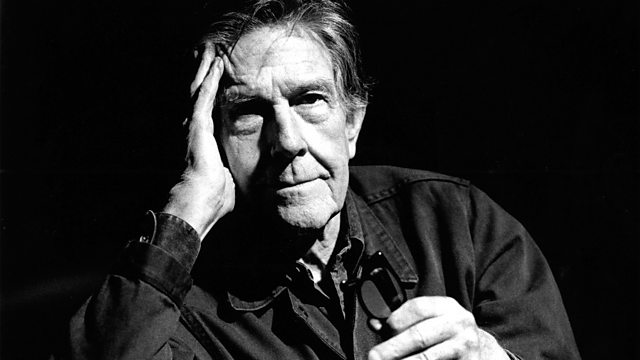 John Cage in letters
Sara Mohr-Pietsch explores the letters of composer John Cage, visits a new house inspired by the music of Satie, and previews a rare new production of an opera by Hartmann.
Presented by Sara Mohr-Pietsch
Today Sara delves into a new book of the letters of John Cage, one of the most original composers and thinkers of the 20th Century, with the help of its editor Laura Kuhn and composers Pauline Oliveros and Peter Dickinson. She visits a house in north London inspired by the piano music of Erik Satie and previews a rare new production of Karl Amadeus Hartmann's opera Simplicius Simplicissimus presented by Independent Opera at Sadler's Wells.
Last on
Chapters
John Cage in letters

Duration: 15:37

Vex House - architecture inspired by Satie

Duration: 13:46

Simplicius Simplicissimus

Duration: 12:50

John Cage in letters

Artist, philosopher, theorist and man of letters – the American composer John Cage is known for the minimalist works with which he helped to re-define the sound of the 20th Century, but his curiosity went far beyond music.

Cage's interest in Zen and the iChing are well known, and he is perhaps the only composer whose most famous work, 4'33", involves musicians playing not a single note. The introduction of chance into his compositional process played a big role in the music Cage produced, and in his collaborations with his partner, the choreographer Merce Cunningham.

But Cage took fewer chances with his written missives. A prolific letter-writer, for many years Cage used a carbon-copy notepad – a practise which left thousands of copies in the Cage archive.

Sara Mohr-Pietsch talks to Laura Kuhn, the Executive Director of the Cage Trust, about her work on a newly published volume of selected Cage letters – many of them to cultural heavyweights such as Pierre Boulez, Karlheinz Stockhausen and Leonard Bernstein – and reviews the volume with two composers who knew Cage, Pauline Oliveros and Peter Dickinson.

Vex House - architecture inspired by Satie

Satie's Vexation is a short piece – about 3 minutes – transformed into a mammoth loop by the composer's instruction to repeat it 840 times. John Cage was enchanted by it, and helped turn Vexations into one of Satie's best-known works by publishing the piece and arranging its first performance. Now Satie's composition loop has inspired a house in North London.

Architect's Chance de Silva have teamed up with the sound artist Scanner, aka Robin Rimbaud, to build a house which has features inspired by the loops and repetitions of Satie's Vexations built into its very fabric – and which has a dedicated piece of music to accompany it, produced by Scanner.

Sara visits the house as it nears completion, and talks to architect Steven Chance and Scanner, about how they drew on Satie's Vexations to design the building.  

You can see a photo gallery of Vex House here.

Simplicius Simplicissimus

Karl Amadeus Hartmann wrote his opera Simplicius Simplicissimus in the 1930s as a protest against the rising power of the Nazis in Germany. Based on the Baroque allegorical novel by Grimmelhausen, which is a commentary on the Thirty Years War, Hartmann intended his opera to draw parallels to the political degradations of his own time.

While Hartmann's work remains relatively little-known, Simplicius Simplicissimus has is being premiered in the UK by Independent Opera, which commissioned an English translation of the work to be performed at the Lilian Baylis Studio, Sadler's Wells.

Sara went to a rehearsal of the work to meet director, Polly Graham, and conductor Timothy Redmond to find out more.

Credits

| Role | Contributor |
| --- | --- |
| Presenter | Sara Mohr-Pietsch |
| Interviewed Guest | Laura Kuhn |
| Interviewed Guest | Pauline Oliveros |
| Interviewed Guest | Peter Dickinson |
| Main John Cage image | Getty Images |
| Small John Cage image | James Klosty |
| Vex House image | Chance de Silva |
| Simplicius Simplicissimus rehearsal image | Max Lacome |

Broadcasts