Main content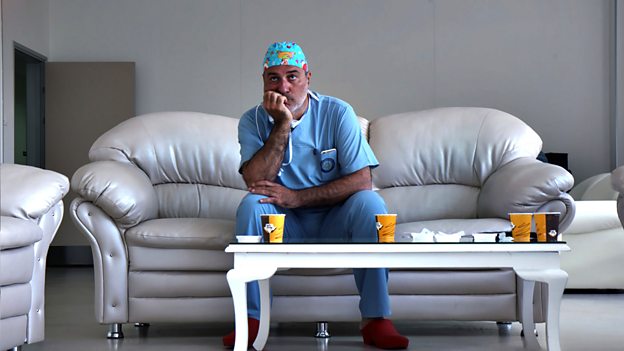 Fatal Experiments: The Downfall of a Supersurgeon
Three-part series looking at the downfall of synthetic organ transplants surgeon Paolo Macchiarini.
Supporting Content
Director Bosse Lindquist answers the Storyville Q&A

What is more important, story or character?
There's never an either or for me. Without a story that actually is of wider importance, the whole enterprise of making a documentary becomes uninteresting and not worth the money or the sweat. Without a central character, it is exceedingly hard to create a story that resonates on television or on the screen. I think a strong relevance for the audience is the central thing – both for story and character.

What made you first want to explore the subject?
When I realised that four senior consultants at one of the foremost hospitals in the Nordic countries had accused colleagues of falsifying science as well as using patients as human guinea-pigs I realized I probably ought to take a look at this story. When I furthermore understood that the hospital management had retaliated against the whistle-blowers, rather than the colleague who might be at fault, then I knew there must be an interesting story buried beneath. Somebody had to be in the wrong – either the persecuted whistle blowers, or the rest of the medical establishment.

How long did it take to get the film off the ground?
It took exactly 365 days – from initial tip until first broadcast.

What were you most surprised to learn in the course of production?
I actually couldn't believe that such extremely serious events had taken place at such prestigious institutions without anyone noticing. The scientific falsification took place at the Karolinska Institute – which issues the Nobel Prize in Medicine – it seemed impossible that they would be part of a cover-up of malpractices that not only contaminated science, but also could have led to the death of patients.

What have been the differences in reception to the film in countries it has now travelled to?
The UK is a first – so I'm very excited to hear reactions!

Which documentary has most inspired you?
Mr. Death by Errol Morris and Man on the Wire by James Marsh

Favourite Website/blog?
http://retractionwatch.com/ which keeps an eye on bad science and http://www.nybooks.com/daily/ - the blog of the New York Review.

Person you'd most like to interview (living or dead?)
Shakespeare. Among the living – well, there are so many interesting people, if they open up their hearts and minds. If I have to choose one – I would say President Obama.

Best piece of filmmaking advice you've ever been given?
You have to be able summarize your idea in three sentences. If you cannot, your idea is still not clear enough to let you work effectively.

Best piece of filmmaking equipment you can't live without?
My iPhone.

If money was no object, what is your dream documentary subject?
A film about the attractions of dangerous populism. The reasons why so many Americans think Trump would become a good president, so many Russians support Putin and so many Europeans vote for xenophobic national movements.

Favourite film of all time?
Amarcord by Fellini

Most difficult access?
Carleton Gajdusek, Nobel Prize winner who discovered Mad Cow disease on New Guinea and who eventually, after many years of persuasion, accepted to take part in my film "The Genius and the Boys" – also a Storyville.

Best recent read?
Yvonne Adhiambo Owuor's Dust – a riveting and magic story of belonging, and not belonging, in Kenya. Seen from the perspectives of people of many colours, but who's hearts all partly belong to East Africa.