Main content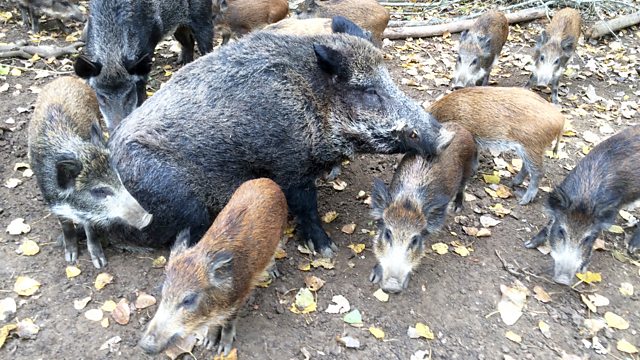 Wild Boar in the Forest of Dean
Helen Mark has a close encounter with some wild boar in the Forest of Dean in Gloucestershire, where the feral population is the largest in the UK.
Helen Mark travels to the Forest of Dean in Gloucestershire to encounter some of the wild boar who have made a home there in the last ten years.
The Forest clearly suits them because their numbers are growing exponentially, with over 1500 feral animals at the last count. The population can almost triple in a year, and with no cold winters or culture of boar-hunting in the UK, the wild boar here have nothing to fear, except the Forestry Commission's marksmen. Adult males can reach twenty stone, run at thirty miles an hour, and can jump or barge through all but the strongest of fences. Also they are not afraid of humans, so unlike deer, you can't just shoo them out of your garden.
Helen meets Dr John Dutton of the University of Worcester, who has made a study of human/boar social interaction in the Forest of Dean, and Kevin Stannard and Ian Harvey from the Forestry Commission, who have been landed with the task of managing numbers on their land.
Then there's Simon Gaskell of the Real Boar Company, who farms boar and sells it as charcuterie. He knows exactly what they're capable of. He describes one of his boar, a beast called Julian, as 'the great white shark' of the woodland. Julian would appear out of nowhere and charge for no apparent reason. But they're not all so bad-tempered, even though they are classed as a 'dangerous wild animal' for farming purposes.
Along unfenced verges, in gardens and on common land, Helen finds evidence of the boar everywhere. And if you're out for a stroll in the heart of the Forest, it's hard not to imagine them watching you from the cover of the undergrowth.
Producer...Mary Ward-Lowery.
Podcast
Countryside magazine featuring the people and wildlife that shape the landscape of Britain