Main content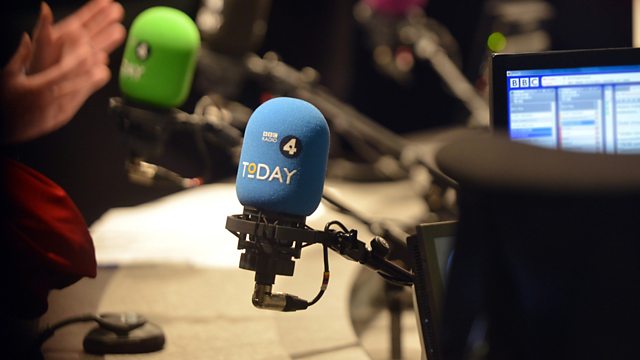 18/10/2016
Morning news and current affairs. Including Yesterday in Parliament, Sports Desk, Weather and Thought for the Day.
Today's running order
0650
Donald Trump has claimed the US election is rigged. The BBC's James Naughtie is in Las Vegas ahead of the final debate tomorrow night and has been looking at the accusations of "large scale voter fraud".
0655
A BBC investigation has found that fewer than half of England's grammar schools give any priority to children from poorer backgrounds in their admissions policies. Professor Anna Vignoles is professor of education at Cambridge University.
0710
The former UKIP leadership hopeful, Steven Woolfe, who was involved in an altercation with another of its MEPs, has quit the party, criticising it as having something "rotten" at its heart. David Coburn is member of European Parliament for Scotland as well as leader of UKIP in Scotland.
0715
Is it still acceptable, given advances in neural imaging and the computer modelling of disease, to conduct medical experiments on primates - our closest animal relatives? Jane Goodall is a primatologist and UN Messenger of Peace.
0720
A BBC investigation has found that fewer than half of England's grammar schools give any priority to children from poorer backgrounds in their admissions policies. Gary Hickey is headteacher of Adams' Grammar School.
0730
One of England's largest mental health trusts has been strongly criticised after 10 of its patients were convicted of a variety of killings. Joe Goswell's mother was killed by his father Roger in 2007 despite warnings to the Sussex Partnership that he had threatened to kill her. Colm Donaghy is chief executive of the Sussex Partnership NHS Foundation Trust.
0740
One of the most devastating scourges upon the well-loved horse chestnut tree is the leaf mining moth. Dr Michael Pocock co-runs conker tree science at the Centre for Ecology and Hydrology. 
0750
Iraqi government forces and Kurdish irregulars have made significant advances on the first day of a carefully planned offensive on Islamic State fighters in the city of Mosul. The BBC's defence correspondent Jonathan Beale reports and Emma Sky is a former British diplomat in Iraq.
0810
Animal rights charity Cruelty Free International has published a report suggesting that a great deal of the research done on monkeys is unnecessary and that viable alternatives involving patients suffering from the diseases being investigated already exist. Today programme science editor Tom Feilden reports. Dr Jarrod Bailey is senior research scientist at Cruelty Free International and Sir Colin Blakemore is professor of neuroscience and philosophy at University of London.
0820
A new report from Medact presents evidence linking 'serious health concerns' with the British military's policy of recruiting children under the age of 18, and calls for a rise in the minimum recruitment age of 16. Rhianna Louise co-authored the report and Colonel Stuart Tootal led the first UK combat unit into Helmand province.
0830
Five years ago then Education Secretary Michael Gove lauded the Durand Academy Chain in South London as "inspiring". Today, it's funding has been terminated amid accusations of financial mismanagement and conflicts of interest. Sir Greg Martin is former head of the Durand Academy Chain.
0835
Modern slavery is hidden in plain sight, says a new study by the University of Hull and YouGov, published to mark Anti-Slavery Day. Kevin Hyland is the UK's first anti-slavery commissioner.
0840
Italy has one of the highest unemployment rates in Europe. But in one specialised area, there is a notable shortage of qualified workers. The Catholic Church is struggling to convince its priests to train as exorcists - qualified to expel evil spirits. The BBC's Italy correspondent James Reynolds reports.
0850
The England and Wales Cricket Board is meeting today to finalise controversial plans for a new eight-team T20 competition based around cities and regions. If the cricket establishment loosens its ties to the old counties and the political world continues to focus on devolution to cities what will happen to our traditional association with counties? Dr Catherine Staite is from the Institute of Local Government Studies at Birmingham University and Matthew Engel is author of Engel's England: Thirty-nine counties, one capital and one man.
All subject to change.