Main content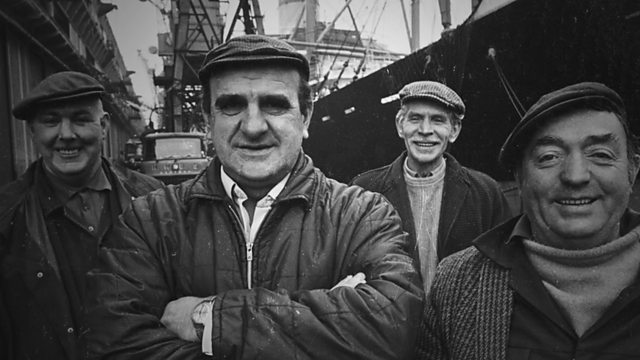 How Britain's docks in cities like Liverpool, London and Cardiff were not only commercial portals to the world, but also gateways for the arrival of sounds, styles and cultures.
Throughout the 20th century, Britain's docks were the heartbeat of the nation - bustling, exciting and often dangerous places where exotic goods, people and influences from across the globe ebbed and flowed and connected Britain with the wider world. Thousands of men with jobs handed down from father to son through generations sustained these emblems of national pride, typified by London, the hub of the British Empire.
The waterside cities within cities where they lived and worked formed the frontier of the country's postwar recovery. Communities connected to the sea grew around them, some as unique as the multicultural sailortown of Tiger Bay in Cardiff, others like Liverpool primed for a new wave of world fame thanks to the music and style being brought into the country by the city's seafarers. The 1960s heralded the arrival of new forms of technological innovation in our ports, and thanks to a simple metal box, the traditional world of dockside would be radically transformed, but not without a fierce struggle to protect the dock work that many saw as their birthright.
Today, docksides are places of cultural consumption, no longer identifiable as places that once forged Britain's global standing through goods and trade. People visit waterfronts at their leisure in bars, cafes and marinas or buy a slice of waterside living in converted warehouses and buildings built on the connection to the sea. While the business of docks has moved out of sight, over 95 per cent of national trade still passes through the container yard on ever-larger ships. However, it is still possible to glimpse the vanished dockside through the archive films and first-hand stories of those who knew it best.
Narrated by Sue Johnston.
Clips

Credits
| Role | Contributor |
| --- | --- |
| Narrator | Sue Johnston |
| Director | Eve White |
| Producer | Eve White |
| Series Producer | William Naylor |