Main content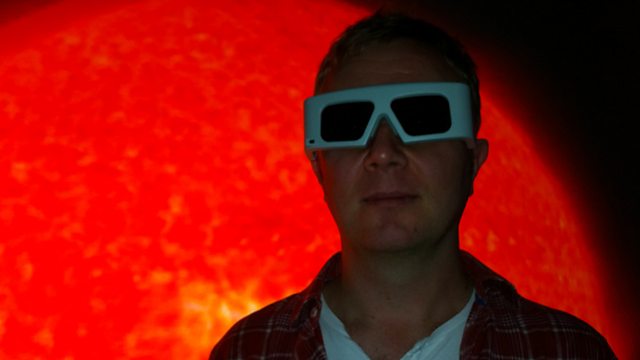 Space Research
Adam Walton talks to scientists in Wales working on space-related projects, from the 2020 Mars Rover to tiny cube-shaped satellites carrying innovative solar cells.
Last on
Music Played
The Jam

That's Entertainment

Very Best of the Jam, The.
Polydor.
Space Research
Adam Walton hears about the latest news on space research, with scientists from Wales. 
With the first part of the ESA/Roscosmos ExoMars mission currently in the news, and the crash landing of the Shiaparelli lander, there's plenty for Aberystwyth University scientists Dr Matt Gunn and Dr Rachel Cross to talk about as they look ahead to the experiments being developed in their department. These will accompany the Mars rover in 2020 when the second ExoMars mission blasts off. Despite the crash landing of the current craft on Mars, the mission is still being hailed as a success, as much can be learnt from the data sent back before the problems began with its descent onto the red planet. The Trace Gas Orbiter is still circling Mars and will be mapping the Martian atmosphere, looking for traces of methane and other gases which could indicate biological activity.

Adam also meets Dr Dan Lamb of Swansea University's Centre For Solar Energy Research, based at St Asaph. He brings in an innovative solar cell which is currently orbiting the Earth attached to a "cube sat". These tiny 10cm cube shaped satellites are used to try out scientific experiments in space. The solar cell being tested is the designed to withstand the rigours of being in outer space and the extreme temperatures and radiation conditions. It's the first thin film solar cell deposited onto Qioptic Space Technology cover glass, which has been launched into space and sent data back, and opens up new possibilities for future products.


We also hear from astrophysicist Dr Chris North, from Cardiff University, who explains recent findings, following analysis of data from telescopes such as Hubble, which predicts that there are ten times as many galaxies in the observable universe than we previously thought. Chris also tackles the age old question of why, with so many galaxies full of stars out there, does it get dark at night?



Broadcasts