Main content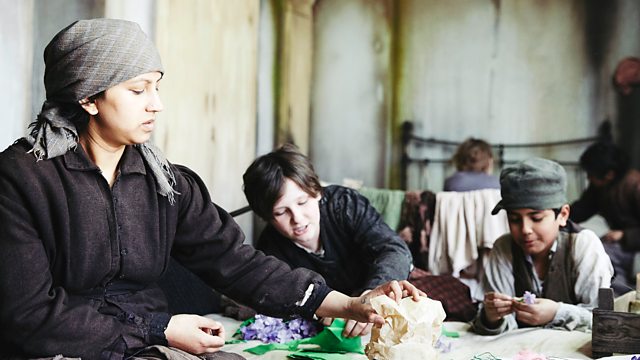 A group of 21st-century people move into a recreated Victorian slum. The slum dwellers live through a dire economic depression that blighted the 1870s.
In the heart of the modern East End of London, a Victorian slum has been recreated and a group of 21st-century people are moving in. Michael Mosley joins them to tell the extraordinary story of how the Victorian East End changed our attitude to poverty forever. The slum dwellers have left behind the 1860s, when London was the richest city on earth and it was hard but possible to make ends meet. Now they must live through a dire economic depression that blighted the 1870s.
Tailoring family the Howarths have become 'sweated workers', so called because of the rate at which they had to work. They must toil nonstop to make up Victorian factory orders for clothing. It is food for thought when they are forced to employ their neighbours' children to complete the work.
The Potter family can no longer rely on breadwinner Graham as he struggles to find work so they join forces with single parent Shazeda to try and get by making artificial flowers. For Heather Potter, the experience has added poignancy when she finds out the fate that befell her own poverty-stricken East End ancestors.
There are new arrivals in the slum when siblings John and Maria Barker arrive from Ireland. They are horrified by the conditions that would have greeted Irish migrants to Victorian London. But they are young, strong and have no dependents and they do have the ability to work.
As the week progresses, rent collector Andy and the shopkeepers the Birds begin to worry that some in the slum won't be able to settle their debts. A moonlit flit has a knock-on effect for all and the harsh realities of life for the Victorian poor hit home.
Clips

Credits
| Role | Contributor |
| --- | --- |
| Presenter | Michael Mosley |
| Expert | Carl Chinn |
| Executive Producer | Cate Hall |
| Series Producer | Mark Ball |
| Director | Emma Frank |
| Producer | Leah Caffrey |
| Production Company | Wall to Wall Media |