Main content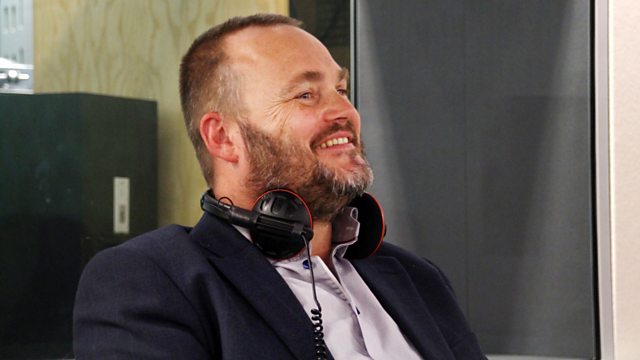 Friday - Rob Cowan with Al Murray
With Rob Cowan. Includes My Favourite Piano Duos; Music in Time: Ligeti's Melodien; Artists of the Week: The Academy of St Martin in the Fields, featured performing Bach and Handel.
9am
My favourite... piano duos. If three's a crowd, two's definitely company, and when it comes to piano duos - whether for two pianos or for four hands at a single instrument - that company can be richly rewarding. Rob's favourite piano duos include works by Mozart, Schubert, Bartók and Lutoslawski, as well as a magical vintage recording of a waltz by Arensky - definitely not to be missed!
9.30am
Take part in our daily musical challenge: listen to the clues and identify the mystery music-related place.
10am
Rob's guest this week is the stand-up comedian Al Murray. Best known for his alter-ego 'The Pub Landlord', Al has performed sell-out shows around the world, as well as making television appearances at The Royal Variety Performance and Live at the Apollo. Al has written books in his pub landlord persona, including The Pub Landlord's Book of British Common Sense and Let's Re-Great Britain. Outside of his pub landlord character, Al has presented Al Murray's Road to Berlin, about the last phase of the Second World War, for the Discovery Channel and Al Murray's German Adventure for BBC Four. He is currently touring his new show 'Let's Go Backwards Together'. Al shares a selection of his favourite classical music, including works by Bach, Handel and Orff, and talks about playing percussion, and reminisces about his performance on the triangle in Dvorák's New World Symphony, every day at 10am.
10.30am
Power of Three - The next episode in a 70-part daily series of pioneering sounds from the BBC Third Programme and Radio 3 archives presented by David Hendy.
Music in Time: Modern
Rob places Music in Time. Today the spotlight is on the Modern era and Melodien - Melodies - a short and ravishingly beautiful orchestral piece by the Hungarian composer György Ligeti, who's probably best known for the three works director Stanley Kubrick hijacked for the soundtrack of his 1968 film 2001: A Space Odyssey - Atmosphères, Lux Aeterna and the Requiem. In those pieces Ligeti used a technique known as micropolyphony to create dense clusters of sound, whereas in Melodien, he rediscovered the clarity of individual lines.
11am
Rob's artists of the week are the late Sir Neville Marriner's orchestra, the Academy of St Martin in the Fields, a superb gathering of players who can turn their hands to virtually any repertoire and make a handsome job of it. We'll hear them in masterpieces from Bach to Bartók, dropping in on Mozart, Mendelssohn and Tchaikovsky along the way.
Bach Brandenburg Concerto No. 2 in F, BWV 1047
Academy of St Martin in the Fields
Neville Marriner, conductor
Handel Concerto Grosso in D, Op. 6 No. 5, HWV 323
Academy of St Martin in the Fields
Iona Brown, conductor.
Music Played
My favourite... piano duos

AL MURRAY'S CHOICE NO.1

Rob's choice for Al Murray

Music in Time: Modern

ARTIST OF THE WEEK: ACADEMY OF ST MARTIN IN THE FIELDS