Main content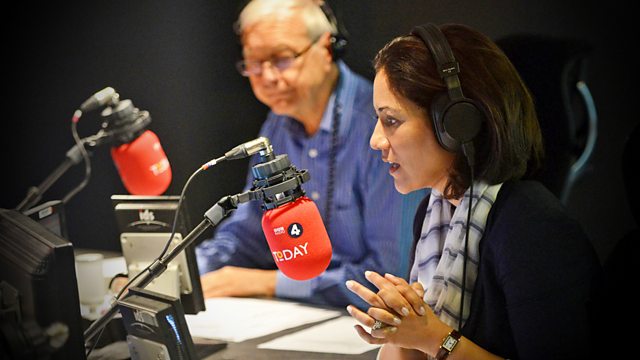 20/10/2016
Morning news and current affairs. Including Yesterday in Parliament, Sports Desk, Weather and Thought for the Day.
Today's running order
0650
Is there a behind-the-scenes briefing operation going on against the Chancellor Philip Hammond? The BBC's parliamentary correspondent Sean Curran reports.
0655
School maths is leaving too many young people unprepared for the workplace and for running their lives, according to the education charity National Numeracy. Mike Ellicock is chief executive of National Numeracy and Laura Clarke is senior lecturer in education, specialising in mathematics.
0710
At the final debate last night Donald Trump said he would keep people in suspense about whether he would challenge the result of the election. The BBC's special correspondent James Naughtie reports and Celinda Lake is a Democrat pollster and political strategist.
0715
The US military in Iraq says leaders of the Islamic State group have been fleeing Mosul as government forces move in to retake the city. Jonathan Beale is the BBC's defence correspondent in northern Iraq.
0720
MPs have elected Labour's Hilary Benn to lead the new cross-party select committee on Brexit. We speak live to Mr Benn.
0730
Drivers are being unfairly left without licences, sometimes for several years, as a result of flawed decisions by the Driver and Vehicle Licensing Agency. Frances Leigh recovered from a stroke but was needlessly prevented from driving for years due to DVLA failures. Dame Julie Mellor is Parliamentary and Health Service Ombudsman.
0740
Some of the hundreds of thousands of people still living in Mosul have been contacting a radio station based in nearby Irbil. The BBC's Mike Thomson has been listening to some of the calls.
0750
Sun columnist and former Editor Kelvin MacKenzie has been cleared by the press regulator of discrimination and harassment against the Channel 4 journalist Fatima Manji for wearing a hijab while presenting news of the Nice terror attacks in July. We speak live to Ms Manji.
0810
Hillary Clinton and Donald Trump locked horns in Las Vegas in the final US presidential debate before next month's election. The BBC's James Naughtie reports. Ann Coulter is a right wing US columnist and one of the most prominent supporters of Donald Trump in the US media.
0820
Kate Bush famously took Wuthering Heights to the top of the charts - now the Brontes themselves are the subject of their own rock musical, Wasted. The BBC's entertainment correspondent Colin Paterson went along to final rehearsals.
0830
The government has announced that thousands of gay and bisexual men convicted of now abolished sexual offences will be posthumously pardoned. Lord Sharkey is a Lib Dem peer who has long campaigned for this and Rachel Barnes is the great-niece of Alan Turing.
0835
The Muslim Council of Britain is planning to set up its own programme to stop people becoming terrorists. This is a direct challenge to the government's controversial Prevent scheme. Miqdaad Versi is assistant secretary general of the Muslim Council of Britain.
0840
The National Crime Agency has released details of 10 of their most wanted fugitives, who are believed to be in Spain. Steve Bennett is from the National Intelligence department at the National Crime Agency.
0845
Two Royal Navy destroyers have been sent to meet a Russian aircraft carrier and other Russian warships heading towards the English Channel. Jonathan Marcus is the BBC's diplomatic correspondent.
0850
Donald Trump and Hillary Clinton stepped off the debate stage in Las Vegas last night. The BBC's North America editor Jon Sopel reports.
0855
William Hogarth's Gin Lane print, made in 1751, showed the devastating effects of Londoners' addiction to gin and could be described as one of the most famous anti-drug posters of all time. To commemorate its 160th birthday, the Royal Society for Public Health has commissioned a new version to reflect today's public health challenges, including obesity. Thomas Moore is the artist who created the new version and Caro Howell is director of the Foundling Museum.
All subject to change.