Main content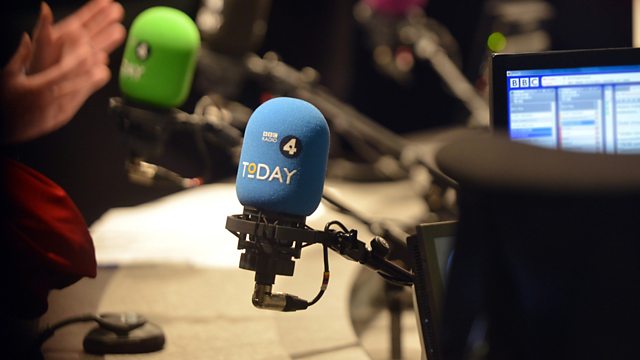 19/10/2016
Morning news and current affairs. Including Yesterday in Parliament, Sports Desk, Weather and Thought for the Day.
Today's running order
0650
The government has abandoned plans to let pensioners raise money by selling their annuities to insurance firms. Steve Webb is former pensions minister and director of policy for Royal London.
0655
The prime minister will attend her first EU summit in Brussels this week. With Britain's position on EU migrants a central issue, the BBC's Europe correspondent Kevin Connolly has been hearing how the debate in Poland is taking shape.
0710
The US has accused so-called Islamic State militants of using civilians as human shields as Iraqi forces move closer to the group's stronghold in Mosul. Sir Simon Mayall is David Cameron's former security envoy to Iraq.
0715
Sir Philip Green has said he's "sad and very sorry" for the hardship caused by the collapse of BHS. Frank Field is chair of the Work and Pensions select committee.
0720
The European Space Agency hopes to land on the surface of Mars later today as part of a search for alien life. Dr Manish Patel is co-leading the methane hunting instrument on the Exomars orbiter.
0725
MPs have been told that concerns were raised about the former chair of the troubled inquiry into child sexual abuse months before she resigned. Lisa Nandy is Labour MP for Wigan.
0730
Are proper checks being carried out to check whether child migrants coming to the UK are not actually adults? David Davies is Conservative MP for Monmouth and Ruth Allen is chief executive of the British Association of Social Workers.
0740
The potential effects of Brexit have been factored into video game Football Manager 2017. The simulation video game, which puts its player in charge of any club he or she chooses, will now include possible post-Brexit working visa regulations. Ciaran Brennan is communications director at Sports Interactive, who make Football Manager.
0750
The government has said it will finally announce whether it favours expanding Heathrow or Gatwick airport next week. Sir John Armitt is chairman of the National Needs Assessment and was also a member of the Sir Howard Davies Airports Commission.
0810
One of the 90 people who lost their lives in the terrorist attack on the Bataclan theatre 11 months ago was Helene Leiris. Her husband Antoine was left to bring up their 17-month-old son Melvil alone. Two days after the killings he wrote an open letter on Facebook to the terrorists entitled "you will not have my hatred". He has written a book about the last year and how he has coped with the loss of his wife.
0820
The European Space Agency hopes to land on the surface of Mars later today as part of a search for alien life. Naomi Alderman has just published science fiction novel The Power and Alastair Reynolds is former scientist with the European Space Agency and now a full-time science fiction writer.
0830
Police have launched a murder investigation after a prisoner was stabbed to death at Pentonville jail in north London. Danny Shaw is the BBC's home affairs correspondent.
0835
The youngest couple in Britain to have killed have been found guilty of murdering a mother and daughter. Roger Graef is a criminologist and filmmaker.
0840
The third and final US presidential debate takes place tonight in Nevada. James Naughtie is the BBC's special correspondent and Christopher Ruddy is CEO of Newsmax Media.
0850
What did people vote for when they voted to leave the European Union? The Today programme's Sima Kotecha reports. Dr Chris Prosser is research associate at the British Election Study and Baroness Stroud is chief executive of the Legatum Institute.
All subject to change.