Main content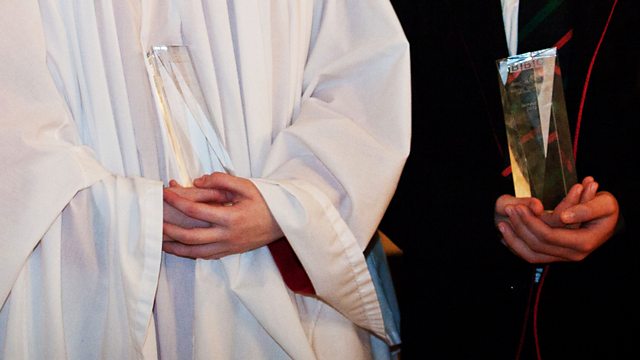 Diane-Louise Jordan hosts the final at Manchester Cathedral, where one boy and one girl will become BBC Radio 2 Young Choristers of the Year, 2016.
Diane Louise Jordan hosts the grand final of this year's competition at Manchester Cathedral. From the eight finalists, one girl and one boy will each be awarded the title BBC Radio 2 Young Chorister of the Year, 2016.
These eight finalists have made it through two rigorous preliminary rounds, facing tough competition from other young singers from around the country. They now have the opportunity to sing in front of our panel of expert judges including the world renowned composer, Bob Chilcott, celebrity vocal coach, Carrie Grant and Christopher Stokes, director of music at Manchester Cathedral.
The talented hopefuls will sing one sacred song and one hymn of their own choice, with the intention of impressing our judges with their vocal quality, technical skill and performance. As the judges depart to make this most difficult decision, the audience will be entertained by Irish singing sensation The Priests.
Now in its 30th year, BBC Radio 2's Young Chorister of the Year is about celebrating young talent singing for worship in churches, chapels, cathedrals and beyond. The Young Choristers of the Year 2016 will enjoy some fantastic performance opportunities as well as Radio and TV appearances. The winners often appear on various BBC programmes including Songs of Praise, BBC Radio 2's Good Morning Sunday and The Sunday Hour, and BBC Radio 4's Daily Service and Sunday Worship, as well as special events at Christmas and Easter.
Over the past 30 years, BBC Radio 2's Young Chorister of the Year has provided a springboard to launch the careers of many talented musicians. Former winners have made television appearances, been awarded recording contracts, appeared in West End musicals and have sung with prestigious choirs. Laura Wright (2005) sang with All Angels, the British classical crossover group. Now with more than one million album sales under her belt, Laura has been one of the biggest selling UK classical artists this decade. William Dutton (2006) sang at the Proms and with world renowned opera singers Jose Carreras and Bryn Terfel. Rose Setten (2004) recently made her operatic debut in Mozart's Cosi Fan Tutti at Garsington Opera and Isaac Waddington (2012) reached last year's Britain's Got Talent final. Two former winners, Louisa Stirland (2012) and Marie Macklin (2003) appear regularly on Radio 2 after recording a number of jingles for the station. Many former winners have gone on to develop careers in music, sing as amateurs or professionals and encourage other young voices to flourish as soloists and in choirs.
Producer: Katharine Longworth.