Main content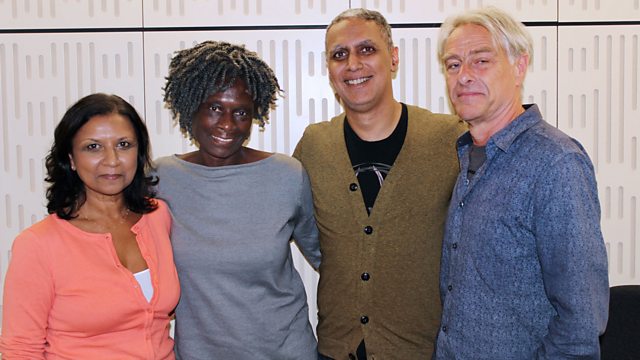 Lopa Kothari - World music milestones
Coinciding with the 70th anniversary of the Third Programme, Lopa Kothari presents milestones from World Music over the last seven decades with guests Simon Broughton and Rita Ray.
As part of the celebrations of the 70th anniversary of the birth of The Third Programme, Lopa Kothari introduces a wide variety of World Music milestones selected from the last seven decades, from Lord Kitchener to Mercedes Sosa, from Fela Kuti to Nusrat Fateh Ali Khan, from Ravi Shankar to Youssou N'Dour. This anthology, which includes Radio 3 archive material, is discussed in studio with guests Simon Broughton, from Songlines magazine, and DJ Rita Ray. Collaborating also in the programme as they select their favourite World Music artist are composer and producer Nitin Sawhney; the poet, composer, songwriter PJ Harvey, and the singer, songwriter and broadcaster, Cerys Matthews.
Last on
From Miriam Makeba to the Buena Vista Social Club via Alan Lomax and Ravi Shankar.
Clips

Music Played
Umm Kulthum

Gannat Naimi

Vol. V (1931 - 1932).
Artistes Arabes Associes.
1.

Ikhwani Safaa Musical Club

Cheo Chako

Ikhwani Safaa Musical Club ‎– Zanzibara 1: Ikhwani Safaa Music Club.
Buda Musique.

Lord Kitchener

My Landlady

London Is The Place For Me: Trinidadian Calypso In London, 1950-1956.
Honest Jon's Records.

Belafonte and Makeba

Train Song

An Evening with Belafonte and Makeba.
RCA.
1.

Mariza

Transparente

Transparente.
EMI - Valentim de Carvalho, Música Lda..

Gilberto Gil

Todo Menina Baiana

Realce.
Warner Music Group.

Ramy Essam

Irhal

OCCUPIED.
Occupation Records.

Muzsikás

The Rooster Is Crowing

The Lost Jewish Music of Transylvania.
Hannibal.
2.

Fela Kuti

Egbe Mi O

Fela's London Scene.
Stern's Music.

Mercedes Sosa

Gracias A La Vida

Nusrat Fateh Ali Khan

Mustt Mustt (Massive Attack Remix)

Remix Artist: Massive Attack.

Luigi Lai

Spinello in F (World Music Archive)

Andy Kershaw in Corsica and Sardinia.

Geomungo Factory

Geomungo & Tango

Buena Vista Social Club

Veinte Anos

Buena Vista Social Club.
World Circuit.

Llio Rhydderch

Castell Rhos Y Llan

Ross Daly

Houdetsanes Kontylies

Beyond the Horizon.
Music Box International.

Ravi Shankar

Ravi Shankar with a traditional sequence of ragas

BBC Proms 2005.
BBC Recording.

Dina El Wedidi

Ya Ganoube
Broadcast

Seven pioneering figures in world music
BBC Introducing on World on 3