Main content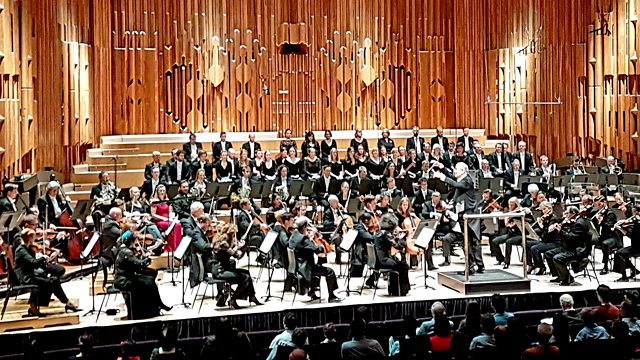 LSO and John Eliot Gardiner - Mendelssohn
Live at the Barbican, John Eliot Gardiner conducts the London Symphony Orchestra in Mendelssohn: Violin Concerto (with Alina Ibragimova); Symphony No 2 (with the Monteverdi Choir).
Posterity has delivered two contrasting verdicts on Mendelssohn's last orchestral work, the Violin Concerto, and the last of his five symphonies (confusingly, No.2). The concerto, staple of the repertoire, is widely regarded as being on a par with the fresh and miraculous music of Mendelssohn's teenage years. But from the very beginning, opinion was divided on the Lobgesang (or Hymn of Praise). For Schumann its choral finale provided 'a glimpse of heaven'; for Wagner it was an unconscionable attempt to ape Beethoven's final symphony, and the Lobgesang's reputation as a mediocre slab of religiose, tub-thumping Victoriana was sealed.
Tonight, live from the Barbican Hall, John Eliot Gardiner gives us a rare chance to hear the two works together and to reassess the Lobgesang as the inspired masterpiece Gardiner believes it to be, a fitting end to his and the London Symphony Orchestra's acclaimed Mendelssohn Symphony series. They're joined by Alina Ibragimova for the concerto and, in the Hymn of Praise, by Gardiner's Monteverdi Choir.
Presented by Sara Mohr-Pietsch
Mendelssohn: Violin Concerto
8.05: Interval Music (from CD)
Fanny Mendelssohn: String Quartet in E flat major
Quatuor Ebène
8.25: Mendelssohn: Symphony No 2 ('Lobgesang')
Alina Ibragimova, violin
Lucy Crowe, soprano
Jurgita Adamontyé, soprano
Michael Spyres, tenor
Monteverdi Choir
London Symphony Orchestra
Sir John Eliot Gardiner, conductor.