Main content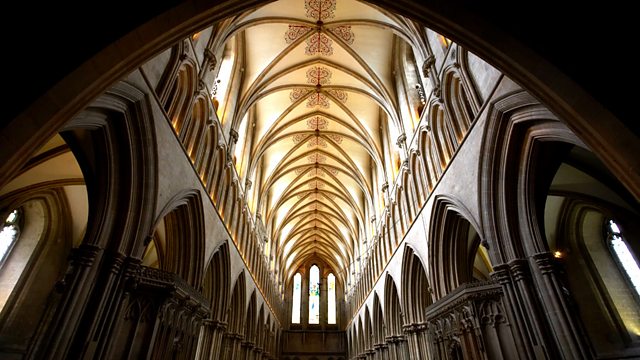 Radio 3 Big Chamber Weekend: Messiaen at Wells Cathedral
From Wells Cathedral, Fiona Talkington presents Messiaen performed for Radio 3's Big Chamber Weekend: Trois petites liturgies de la presence divine; Quartet for the End of Time.
Pungent harmonies and scintillating colour in two of Messiaen's most popular works, performed on Saturday evening at Wells Cathedral for Radio 3's Big Chamber Weekend.
Presented by Fiona Talkington
Messiaen: Trois petites liturgies de la présence divine
Wells Cathedral School Choralia
Simon Smith, piano
Cynthia Millar, ondes martenot
Percussionists from Wells Cathedral School
London Contemporary Orchestra
Conducted by Christopher Finch
8.15pm
Messiaen: Quartet for the End of Time
Atos Piano Trio
Mark Simpson, clarinet
Fiona Talkington presents the first in a series of concerts, curated by Radio 3 in partnership with Cedars Hall at Wells Cathedral School, together with the Atos Trio of Berlin. Across this evening and the rest of the week's Radio 3 Lunchtime Concerts, they take us on a musical journey around four European cities.
Tonight's concert comes from Wells Cathedral and the focus is on Paris, where Oliver Messiaen lived and worked for over seventy years. Both works on the programme were composed during the Second World War, and reflect Messiaen's profound Roman Catholic faith. Trois petites liturgies is an ecstatic three-part hymn to the divine presence in all things, whilst his Quartet for the End of Time was famously written and performed in a prisoner of war camp at Görlitz, and was inspired by a vision of angelic glory described in the Book of Revelation.