Susie Dent on Language
Michael Rosen and Laura Wright talk to Susie Dent, lexicographer and word lover known for her expert contribution to Countdown and 8 Out of 10 Cats Does Countdown. She has been uncovering the secret language tribes of Britain: the words used only between themselves by groups like publicans, binmen and builders..what on earth is "disco rice"?
Producer Beth O'Dea.
Last on
Susie Dent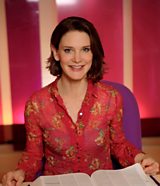 Susie Dent is an etymologist and lexicographer. She is the resident word expert in Dictionary Corner on Channel 4's Countdown and is the author of several books, including Dent's Modern Tribes: The Secret Languages of Britain.