Main content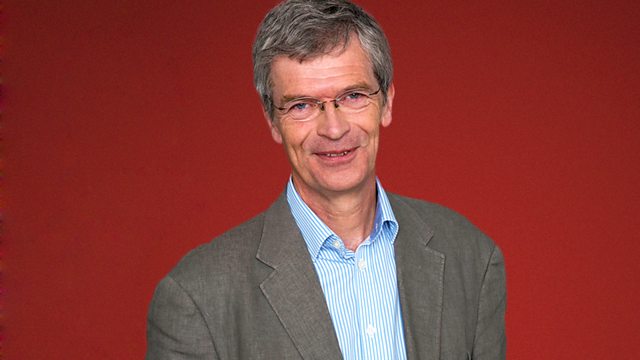 15/10/2016
Alyn Shipton selects music in all styles of jazz from listeners' requests, which this week will include a classic track by Charles Mingus and the Jazz Workshop.
Performers:
Artist  Charles Mingus
Title  Eat That Chicken
Composer Mingus
Album  Oh Yeah!
Label  Essential Jazz Classics
Number  55621 Track 6
Duration  4.41

Artist  Alex Von Schlippenbach
Title  Trinkle Tinkle
Composer Monk
Album  Monk's Casino
Label  Intakt
Number  Track 3
Duration  4.10
Artist  Benny Goodman Sextet
Title  Honeysuckle Rose
Composer Waller, Razaf
Album  1949-51
Label  Classics
Number  1436 Track 19
Duration  5.27
Artist  Al Bowlly with Ray Noble
Title  Hustlin' and Bustlin' For Baby
Composer Woods
Album  Al Bowlly Collection Vol 1
Label  Acrobat
Number  CD 2 Track 13
Duration  2.22
Artist  Vaughn Munroe
Title  Seems Like Old Times
Composer Lombardo / Loeb
Album  
Label  Victor
Number  20-1811 Side A
Duration  2.54
Artist  Ted Heath
Title  Piccadilly (London Suite)
Composer Waller
Album  Listen To My Music Vol 3 1947-48
Label  Hep
Duration  2.03
Artist  Oscar Peterson
Title  Corcovado
Composer Jobim
Album  Travelin' On
Label  MPS
Number  15 222 Track 3
Duration  7.30
Artist  Bud Shank / Laurindo Almeida
Title  Mood Antigua
Album  Holiday in Brazil
Label  Smith and Co
Duration  4.08
Performers: Bud Shank, flute, Laurindo Almeida, g; Gary Peacock, b; Chuck Flores, d. March 1958.
Artist  Jelly Roll Morton
Title  Tank Town Bump
Composer Morton
Album  Doctor Jazz
Label  Proper
Number  Properbox 113 CD 3 Track 19
Duration  3.08
Performers Red Rossoter, Briscoe Draper, t; Charlie Irvis, tb; George Bacquet, cl; Paul Barnes, ss; Joe Thomas, as; Walter Thomas, ts; Jelly Roll Morton, Rod Rodriguez, p; Barney Alexander bj; Harry Prather, tu; William Laws, d 10 July 1929.
Artist  Jelly Roll Morton
Title  Winin' Boy Blues
Composer Morton
Album  Sidney Bechet 1932-43 The Bluebird Sessions
Label  Bluebird
Number  ND 90317 CD 1 Track 15
Duration  3.08
Artist  New Orleans Bootblacks
Title  Mixed Salad
Composer Armstrong
Album
Label  Hot Jazz Club of America
Number  HC31 Side A
Duration  3.14
Performers George Mitchell, c; Kid Ory, tb; Stump Evans as; Johnny Dodds, cl; Lil Arsmtrong, p; Johnny St Cyr, bj; Baby Dodds, d. 14 July 1926
Artist  Martin Wheatley
Title  Stargazing
Composer Wheatley
Album  Lucky Star
Label  Signpost
Number  CD2 Track 1
Duration  2.40
Artist  Thelonious Monk
Title  I Want to be Happy
Composer Caesar / Youmans
Album  Complete Prestige Recordings
Label  Prestige
Number  3PRCD 4428-2 CD 2 Track 9
Duration   7.42
Performers Sonny Rollins, ts; Thelonious Monk, p; Tommy Potter, b; Art Taylor, d. Oct 1954