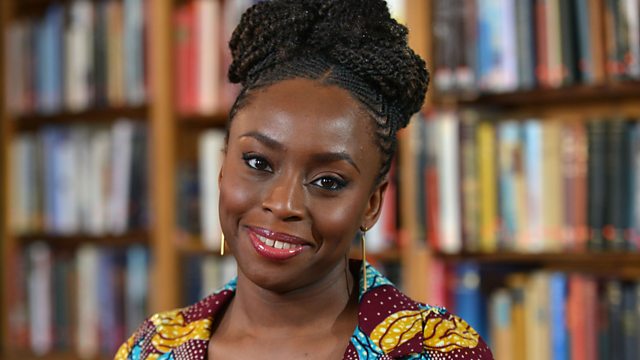 Weekend Woman's Hour: Chimamanda Ngozi Adichie, Lucie Horsch, Joy Spence
Highlights from the Woman's Hour week including award-winning author Chimamanda Ngozi Adichie on becoming a parent and 17-year-old musician Lucie Horsch performing the recorder.
The award winning author Chimamanda Ngozi Adichie will be discussing parenthood, Michelle Obama and her new collaboration with a cosmetics brand.
Hundreds of thousands of black GIs were stationed across the UK during WW2. Many had relationships with local women and some had children but, due to US laws at the time, they were usually refused permission to marry. Jenni talks to Dr Deborah Prior, who was one of those babies and to Professor Lucy Bland of Anglia Ruskin University who hopes to shed light on an under-reported chapter of 20th century social history.
Who'll make it on to this year's Woman's Hour Powerlist which will feature seven women who have made the biggest impact on women's lives over the past seven decades. Baroness Helena Kennedy QC, the MP Nicky Morgan and Professor Sarah Childs will discuss who might make the list from the world of politics?
The genius of the baroque artist Artemesia Gentileschi with Anna Reynolds the Curator of Paintings at the Royal Collection and Jonathan Jones the art critic for the Guardian - why are they both such huge fans?
Hayley Squires star of the new Ken Loach film I, Daniel Blake talks about her role as a penniless single mother determined to make a good life for herself and her children.
Joy Spence the world's first female master blender introduces us to the many flavours of a well blended rum.
Plus music from the 17 year old Dutch musician Lucie Horsch , the first recorder player to ever sign a record deal.
Highlights from the Woman's Hour week. Presented by Jane Garvey
Producer: Rabeka Nurmahomed
Editor:Beverley Purcell.
Poet Hollie McNish has an honest chat with friends about birth, sex and parenthood.

Chimimanda Ngozi Adichie's advice to our daughters

Nicky Morgan MP, Labour peer Helena Kennedy & Sarah Childs discuss women in politics.
Credits
| Role | Contributor |
| --- | --- |
| Presenter | Jane Garvey |
| Interviewed Guest | Chimamanda Ngozi Adichie |
| Interviewed Guest | Deborah Prior |
| Interviewed Guest | Lucy Bland |
| Interviewed Guest | Helena Kennedy |
| Interviewed Guest | Nicky Morgan |
| Interviewed Guest | Sarah Childs |
| Interviewed Guest | Anna Reynolds |
| Interviewed Guest | Jonathan Jones |
| Interviewed Guest | Hayley Squires |
| Interviewed Guest | Joy Spence |
| Performer | Lucie Horsch |
| Producer | Rabeka Nurmahomed |
| Editor | Beverley Purcell |