Main content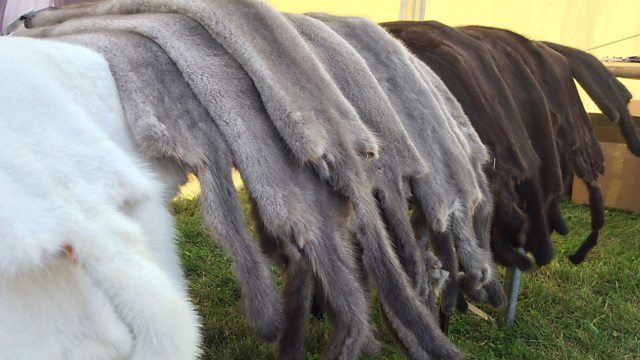 Fur Farms and Sexist Salespeople
Consumer affairs. What difference will new animal welfare measures make on European fur farms? Plus a report on how women and men experience sexism when they are shopping.
Today, an MP launches a bill in the House of Commons, demanding cosmetic surgeons be licensed. We speak to Kevan Jones, Labour MP for North Durham, and his constituent, Dawn Knight, who had botched cosmetic eye surgery.
The European fur industry is introducing new animal welfare measures. We report from inside farms in Denmark and Lithuania on what it will mean for mink which are bred for their fur.
The National House Building Council is paying out more claims than ever to homeowners unhappy with the quality of their new-build houses. We hear from listeners who are stuck in a poor-quality home, but find the guarantee they have to get repairs isn't what they thought.
Our female listeners tell us they're treated differently to men by sexist salespeople selling them double glazing, cars or carrying out building work on their home. But men tell us they are also ignored when they're shopping for certain products; can the retailers learn anything from it?
The Brexit vote and rising inflation are going to have an impact on our food prices. We report from the IGD retail conference where the Chief Executives of the big supermarkets are meeting to discuss the future.
And, the Food Standards Agency is trying fewer inspections for restaurants and eateries if they have good hygiene ratings. But could that put diners at risk? We speak to Heather Hancock, Chair of the FSA.
Chapters
Cosmetic Surgery

MP calls for cosmetic surgery licensing system after permanent damage to woman's eyelids.

Duration: 08:24

Supermarket Conference

At their annual meeting, big supermarkets meet to discuss the impact caused by Brexit.

Duration: 06:04

Fur Farming

Will new welfare assessments improve things for animals on European fur farms?

Duration: 11:48

Sexist Salespeople

In 2016 are there still areas of life where businesses and trades defer to men or women?

Duration: 06:52

Food Hygiene

The Food Standards Agency explains plans to scale back inspections.

Duration: 05:14

Sexist Sales People

Jacqui got in touch with the programme, she says "My two friends and I saw this sign in a shop in Wells and thought it was hilarious - but we would - as wives." It reads, Husbands MUST have a note from their wives before selecting colours.