Main content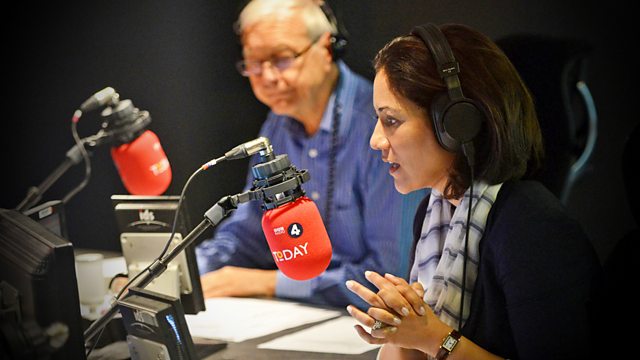 05/10/2016
Morning news and current affairs. Including Sports Desk, Weather and Thought for the Day.
Today's running order
All subject to change:
0650
Listen to Theresa May's ministers this week and again and again you'll hear the words "industrial strategy" -  but what does this actually mean? Chris White is member of the Business, Innovation and Skills Committee and James Sproule is chief economist at the Institute of Directors.
0655
More than eight in 10 areas need to improve if England is going to meet its ambitious target of developing "world class" cancer care by 2020, according to an analysis by NHS bosses. Jonathan Ledermann is professor of medical oncology at UCL Cancer Institute.
0710
The UK Independence Party has been thrown into disarray after the shock resignation of leader Diane James after just 18 days in charge. Paul Oakden is chairman of UKIP.
0715
The EU and Afghanistan are co-hosting the Brussels Conference on Afghanistan. John Kirby is spokesperson for John Kerry and the State Department.
0720
Scientists are to investigate whether fish in British waters have regional dialects. Professor Steve Simpson is associate professor in marine biology and global change at the University of Exeter, leading the research.
0730
A year ago when the Tories gathered to listen to their leader's party Conference speech they sprang to their feet to applaud a man who had delivered them a surprise election triumph. Few spent much time talking about the forthcoming EU referendum, assuming the country was bound to vote to remain. Lord Bilimoria is chancellor of Birmingham University and the founder of Cobra Beer.
0740
Brian Wilson created ground-breaking music with the Beach Boys but he also struggled with mental illness and drug addiction. Now Mr Wilson has published the memoir I Am Brian Wilson – the BBC's arts correspondent Rebecca Jones has been talking to him.
0750
The UK Independence Party has been thrown into disarray after the shock resignation of leader Diane James after just 18 days in charge. Lisa Duffy stood against Diane James in last month's leadership election.
0810
Amber Rudd has announced major new restrictions on overseas students, including two-tier visa rules affecting poorer quality universities and courses, a crackdown on work visas and the introduction of a £140m "controlling migration fund". We speak live to the home secretary. 
0820
The vice presidential debate between Democrat Tim Kaine and Republican Mike Pence has just taken place in Farmville, Virginia. The BBC's Laura Bicker and James Naughtie report.
0830
Russia's lower house of parliament convenes for the first time since parliamentary elections at the end of September gave a landslide victory to the ruling party United Russia. Tony Brenton is former British Ambassador to Russia and the BBC's Moscow correspondent Steve Rosenberg reports.
0840
Ben Smith, a 34-year-old from Bristol, will head back to his home town today to complete his 401st marathon in 401 days. We speak live to Mr Smith.
0850
We may live in an age of games consoles and Pokemon Go, but the more traditional board game is also booming. Catherine Howell is senior curator at the V&A Museum of Childhood and Leslie Scott is founder of Oxford Games and the designer of Jenga in 1983, which has sold over 50 million units worldwide.