Main content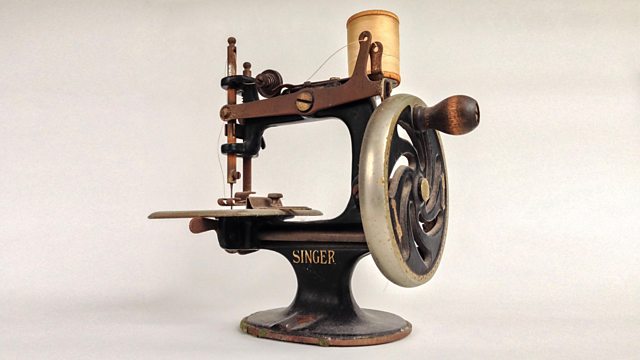 Song of the Singer Sewing Machine
The song of the Singer Corporation and its mighty sewing machines has sewn itself into history. Maria Margaronis tells the story of this once great empire and the lives it touched.
The song of the Singer has whirred its way through more than 160 years. There is not a town in the world where this machine has not made its presence felt. Maria Margaronis considers the might of the sewing machine to make empires and change lives for better or worse.
Isaac Singer patented his machine in 1851. That bald fact alone doesn't even begin to describe the individual behind this perfection of technologies and processes. Impresario, inventor, actor and millionaire and father of 22 children with six wives, the last of whom was the model for the Statue of Liberty. There was skull duggery and power play at work in his ability to capture the market - the rise of the first multi-national. As the slogan goes 'Sewing made easy'.
By the late nineteenth century Singer had 86,000 employees and 5,000 branch offices in 190 countries--a reach second only to the Catholic Church.
But we begin on a busy North London road. The shop simply says SINGER, inside is a nest of sewing machines. It is here that Maria Margaronis has brought her mother's old machine and it is here she begins her story, unpicking the threads of time. This machine was one of millions made on Glasgow's Clyde Side. Singer's European heartland until 1980. A place that produced some 36 million machines. Maria Margaronis travels to both Glasgow and to the site of the vast American Singer factory in Elizabethport New Jersey to piece together the story of a once all powerful empire. From the Amazon river where they were traded for emeralds to St Petersburg where the Bolsheviks had the temerity to nationalize the Singer factory. Drawing on oral history, newly recorded interviews and rare gems Maria follows the many threads of Singers presence in the world.
Producer: Mark Burman.